AIFF Super Cup
Super Cup 2018: Albert Roca - Bengaluru FC never give up!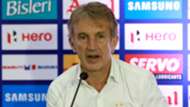 The runners-up of the 2017-18 Indian Super League (ISL), Bengaluru FC will meet NEROCA FC in the last quarter-final of the 2018 Super Cup at the Kalinga Stadium in Bhubaneswar, Odisha, on Friday.
"We will keep on working hard on the pitch and try to be better than our opponent," Bengaluru head coach Albert Roca told reporters on the eve of the match.
Even though the fixture kicks off at 4 PM IST, the Spaniard elucidated, "I don't think we should train at 4 PM because the game is at 4 PM. The weather is too hot and there is only one test on the day of the game when we have to play at 4 PM. Everybody knows that and we have to be mentally strong. 
"For sure, we may suffer in the second half and that will depend on the result. If we are able to lead the game from the beginning, perhaps it will be a little easier but I don't expect an easy game. NEROCA has a good team with good foreigners. So let's try to do our best."
Given that the Super Cup is played in a knock-out format, Roca was quizzed whether there were lessons to be learnt from his side's defeat in the ISL final against Chennaiyin FC not so long ago.
"Sometimes you don't expect to concede a goal via setpieces. We have never conceded a goal (via setpieces) during the league and suddenly we are making some mistakes during a special game. This is a sport where you should not make too many mistakes or concede too many chances for the other team to take advantage," the former Barcelona assistant continued.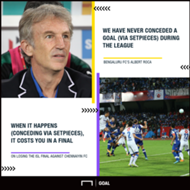 "When it happens, when you are behind the score, it costs you in a final, when you knew that you have done so well during the season. I think all the circumstances were against us, because mentally, the other team had nothing to lose. For us, we were under much more pressure for that reason, but we have to forget and look forward."
Citing examples of the recent UEFA Champions League upsets, he added, "Barcelona, Madrid (though Real Madrid progressed on account of their aggregate scoreline) - all these teams also have their bad days. We have to look forward and try to do our best tomorrow (Friday) and let's see if we are able to be in the semi-finals after the game."
Bengaluru FC were involved in an AFC (Asian Football Confederation) Cup encounter against New Radiant on Tuesday. Moreover, the Blues are set to endure their first 4 PM IST kick-off in the Super Cup.
"For sure, our conditions are different than some of the other clubs. We are in two competitions and to achieve the goals of the club makes the situation tougher for us, but we are professionals. So we have to accept the circumstances and be positive because if we are in two competitions it means that we are one of the best teams in India. We cannot drop our level," Roca stated.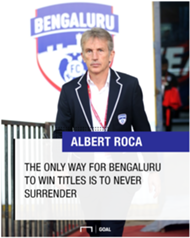 "All the competitions are important. I cannot choose. This (Super Cup) is a knock-out tournament. In the AFC Cup, losing a game and winning the others can take you to the next stage. So it's a big difference. Sometimes it is perhaps (better) to rest the players who have played in the ISL and who have more experience and (because) if something happens (to them) it's over," he added.
"We know how difficult it is to manage that situation in a big squad, but until now I am really happy about the performance of all my players during the season. Now it's time to suffer physically because people know that it's the end of the season and there are not so many games ahead. So we have just to fight to achieve our goals."
Late winners helped Bengaluru recently against Gokulam Kerala in the Super Cup and New Radiant in the AFC Cup.
"We are a team who never surrender or give up. Bengaluru are a team, if we are winning or losing - we never give up. If we are fighting in a game, we know that we can fight back even at the last minute. I hope it remains like this. The only way for Bengaluru to win titles is to never surrender. It's our philosophy," Roca signed out.