Malaysia
Beto is mentally prepared, but stays realistic following first Malaysia call-up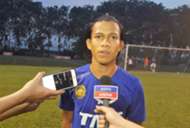 ---
BY        ZULHILMI ZAINAL       Follow on Twitter
---
Perak midfielder Ahmad Khairil Anuar Ahmad Zamri has become the most recent Malaysia U23 player to receive a call-up to the Malaysia senior side under head coach Nelo Vingada, following in the steps of Matthew Davies, Syamer Kutty Abba and Adam Nor Azlin.
Khairil, who is also known as Beto to fans and teammates, is now set to end the season on a high, after he had been plagued by injuries that kept out of club and junior international football for much of 2017. The 22-year old endured a frustrating first half of the season, when he was kept on the sidelines while his Malaysia U23 teammates went on to qualify for the AFC U23 Championship and capture the 2017 SEA Games silver medal, despite the Young Tigers head coach Dato' Ong Kim Swee's patience and belief in him.
Fortunately for him, he finally recovered just in time for Perak's two-legged Malaysia Cup semi-final tie against Johor Darul Ta'zim (JDT) in October, and was picked to start both matches. Although the Bos Gaurus would go on to lose 4-1 on aggregate, Vingada noticed Beto's performance in the semis.
On Monday, when the Portuguese had to drop three men from the squad that he would take to Buriram, Thailand for their two Asian Cup qualification matches against DPR Korea, Beto was announced as one of the two players replacing them, alongside Felda United's Hadin Azman.
Beto himself was taken aback by the selection, saying that he had to travel back from Ipoh to the Klang Valley, where the Malaysian FA headquarters is situated, to join the national team training camp although he had just travelled back from there for personal matters a day earlier.
"I was surprised really. Can't believe I get to join the national team. I had just been back from Kuala Lumpur yesterday when I got a telephone call from the assistant coach. 
"As soon as the call was finished, I mentally prepared myself to give my best.
"Nelo saw me in the Malaysia Cup semi-final tie and must have liked what he saw in me," he told the press when met after training with the national team on Monday. 
When asked about his advantage over the five other midfielders called up by Vingada to the squad, Beto remarked that he can inject versatility and passion into the team.
"As I showed in the semis, I play with a lot of heart. I tell myself to push away any other problems I had, and to give it my all.
"One other edge I have is versatility. I can attack from the centre, or left and right, wherever I am placed," he noted.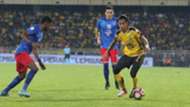 Beto playing in Perak's first leg Malaysia Cup semi-final match against JDT in October. Photo from Perak TBG Facebook
But Beto nevertheless remains realistic on his first cap chances, pointing out that there are several more established midfielders ahead of him in the pecking order.
"I can't expect too much from this outing however, as this is my first call-up. I'll pick up a few things in this outing, and maybe I'll get my chance in the future.
"There are much senior midfielders who are more experienced than me in the team, and it is likely that the coach will pick them ahead of me. But I'll fight for my place and keep learning," he explained.