AFF Championship
AFF Championship team profile: Timor-Leste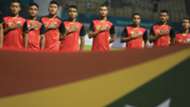 Another minnow that will return to the AFF Championship finals this year is Timor-Leste, who are set to make their second appearance.
OVERVIEW
For the second time in their history, Timor Leste will appear in the AFF Cup finals. The AFF 2018 Championship is a special occasion for them, as they will participate again in the final round of the biennial Southeast Asian football tournament. Timor Leste qualified for the 2018 tournament after beating Brunei Darussalam with a 3-2 aggregate score. Timor Leste squad is dominated by young players who are 2018 Asian Games graduates. This team selection can't be separated from the fake passport scandal that afflicted some senior players some time ago. Even though there are many young players, they have enough international experience. Unfortunately, the excitement of participating in the AFF Cup finals for the first time since 2004 has not followed by adequate infrastructure. Timor-Leste are forced to play their home group matches abroad because their stadium does not meet the requirements. Timor-Leste will host Thailand at the Rajamangala Stadium, Bangkok. While the Kuala Lumpur Stadium will be the venue of the Philippines tie.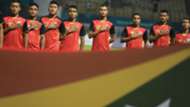 Timor-Leste. Photo by INASGOC/Antara
SQUAD
Goalkeepers : Aderito Raul Fernandes (Ponta Leste), Fagio Augusto Da Silva Pereira (Karketu Dili).
Defenders : Candido Monteiro De Oliveira (Ponta Leste), Jorge Sabas Victor (Karketu Dili), Gumario Augusto Fernandes Da Silva Moreira (Boavista), Jose Guterres Silva (Boavista), Armindo Correira De Almeida (Acedemica), Nidio Ricardo Ferreira Alves (Benfica Laulara), Domingos Ramos Freitas (Karketu Dili), Adelino Trindade (Ponta Leste).
Midfielders: Yohannes Kapitan Paulus Gusmao (Benfica Laulara), Baptista Belo (Karketu Dili), Joao Pedro Da Silva Freitas (Benfica Laulara), Filomeno Junior Da Costa (Benfica Laulara), Nelson Sarmento Viegas (Boavista), Nataniel Reis (Boavista), Jose Dos Santos Almeida (DIT FC), Gelvanio Angelo Da Costa Marical Alberto (Boavista), Feliciano Pinheiro Goncalves (Ponta Leste).
Forwards : Henrique Cruz (Boavista), Rufino Walter Gama (Karketu Dili), Silveiro Garcia (Ponta Leste), Edit Romanos Cristovao Savio (Boavista).
HEAD COACH PROFILE
Norio Tsukitate is no stranger to Timorese football. The Japanese once trained the junior national team when competing in the 2013 AFF U-19 Championship. Tsukitate even successfully brought Timor-Leste to the top of Group A with three wins and one draw, before they were defeated 2-0 by Indonesia in the semi-finals. The federation then appointed Tsukitate as the senior and U-23 national team coach in May 2018. But Tsukitate failed to impress in the 2018 Asian Games as Timor Leste finished bottom of Group C without points.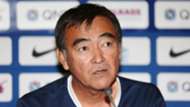 Norio Tsukitate. Photo from Getty
PLAYING STYLE
Qualifying for the finals was no small task for Timor-Leste. After winning 3-1 in the first leg against Brunei, they almost failed to qualify after losing 1-0 in the second leg. In these two matches, Norio Tsukitate employed two different formations. In the first leg, Timor Leste applied a 4-4-2 formation by placing Rufino Gama and Joao Freitas as forwards, and they appeared aggressive with this scheme. In the second leg, they tried to maintain their lead by using the 4-5-1 scheme. Gama deployed as the sole striker, while Freitas was behind him along with Henrique Cruz, Filomeno Da Costa, Osvaldo Belo, and Jose Silva. The second scheme is likely to be emplaoyed again by Timor-Leste, in the group phase matches, considering that Thailand, Indonesia, the Philippines, and Singapore are all more formidable sides. Another player to watch is Adelino "Aldy" Tridande because of his set-pieces skill. He scored five goals in the 2013 AFF U-19 Championship, and has scored three goals with the senior team, a very impressive statistic for a defender.
Keep updated on the 2018 AFF Championship!
Also follow Goal Malaysia 's Instagram account!