KPL
Another Ugandan 'ditches' AFC Leopards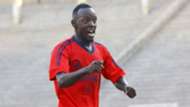 A few weeks after Ugandan midfielder Alan Kateregga ditched AFC Leopards for his native land, his country-mate Keziron Kizito has reportedly ditched the den.
The Ugandan midfielder has been part of the team's plans for the latter stages of the season, but according to a senior source from the club, the player has seemingly decided to try his luck with an unnamed club after he reportedly went missing early this week.
"Kizito was supposed to be in training today (Wednesday), with other members, but since Monday he has not been reached. His phone has been off and it has left us guessing.
"He had requested us to leave but we asked him to stay put until the end of the season, but again we do not want to overindulge in unconfirmed reports.
"Definitely if he has done something behind our back, as the club management we will take an action."
This comes barely a month after Kateregga ditched Ingwe for Ugandan Champions, KCCA in August after of turbulent time with head coach Robert Matano who took issues with his discipline.
Leopards are fighting to finish in the top eight this season after a poor start to the league; this weekend it will be playing Kariobangi Sharks.