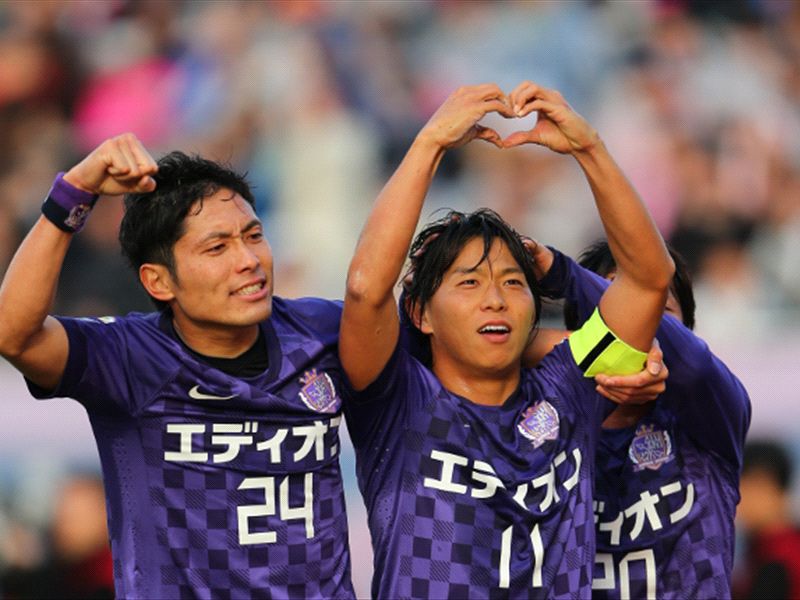 The years from 2007 up to now were those of the final maturation of the Japanese game, and those of the consolidation of the J-League. Since 2004 attendance had stabilized, with an average of about 18,000-19,000 spectators for J1, and 6,000-7,000 for J2 - numbers that outdo several European Leagues.
Kashima Antlers, after their spells with Zico experienced their third spring in the second half of the 90s with Oswaldo Oliveira at the helm. The Brazilian led the team to three consecutive J-League titles from 2007 to 2009 (a record), and continued the series of victories with an Emperor's Cup in 2010 and a Yamazaki Nabisco League Cup in 2011. The team was taken over by another Brazilian, Jorginho, who defended the League Cup in 2012. Antlers are today the most titled club in Japan, with a total of 20 trophies.
However, there were plenty more stories in recent years. Both Nagoya Grampus in 2010 and Sanfrecce Hiroshima in 2012 won their first J-League titles led by a former player: Dragan Stojkovic and Hajime Moriyasu.
Perhaps what happened in 2011 was even more exciting, when newly-promoted Kashiwa Reysol, piloted by Brazilian tactician Nelsinho managed to win the J-League championship the year after being promoted from J2 - a very rare event in football.
At the end of the same season, Resyol represented Japan in the FIFA Club World Cup, where they finished fourth after a semifinal against Brazilian side Santos, during which Nelsinho's men gave a real challenge to Neymar Jr. and his teammates.
But the newly achieved international dimension of Japanese football was better expressed in the number of players who grew up in the J-League and were hired by European clubs. By 2013, about 30 Japanese players resided in the old continent, and the likes of Shinji Kagawa, Keisuke Honda and Yuto Nagatomo have clinched titles with their clubs and have become well-known faces worldwide.
In 2010, Japan played their fourth World Cup in a row in South Africa, led again by the returning Takeshi Okada, and impressed positively, only being eliminated by Paraguay in the round of 16 after a penalty shootout. This result proved to be better than what powerhouses such as England, Italy and France could achieve after all three were eliminated at the group stage.
Besides the aforementioned Honda, players who caught the eye of international experts in this tournament were Yuji Nakazawa and Marcus Tulio Tanaka. Both of them were born and bred J-Leaguers, who as centrebacks, helped Japan's defence to concede only two goals in four games.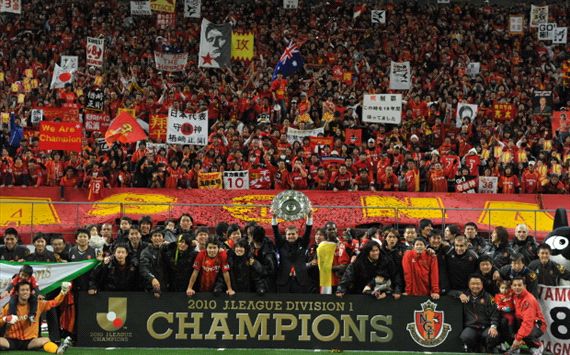 The following year in 2011, Japan was struck by one of the worst natural disasters in recent times, when an earthquake and a tsunami devastated a huge area in the north of the country on March 11.
Football became a catalyst for solidarity, as the whole country came together to help the areas in need. On March 29, the national team, now led by Italian manager Alberto Zaccheroni, regrouped in Osaka to face an all-star selection of J-League players that went under the name of "Team as One." The night was blessed by a goal from veteran Kazu Miura, then 44 years old, and marked the beginning of a long series of solidarity events that continues to this day.
The forming of friendships between supporters is a characteristic that pervades the J-League since its early days, and despite the supporters now being segregated in ultras clubs, similar to those seen in Europe, violence on the terraces is almost unheard of, and unanimously condemned.
The involvement of the clubs with their community have helped to create a very family-friendly atmosphere at the stadium. In fact more than 40 per cent of spectators in J-League stadiums today are female, and it is very common to spot children and elders in the stands enjoying a day of football with their relatives.
On the pitch, as the top players leave for Europe, they are substituted by youngsters emerging from the clubs' youth system, while the Japanese game keeps improving both tactically and technically.
The 2013 season features 18 clubs in J1 and 22 in J2, and they will be joined by 12 more in 2014 when the opening of a third division (J3) will bring the total of professional football clubs in Japan to 52.
The growth of Japanese football discussed in these words was a carefully planned program the J-League calls the "Hundred Years Vision" aimed to promote football in order to create "A Happy Nation Through Sport."
The achievements of Japanese football in the past 20 years have been impressive, and in view of such progress, it is hoped that more people across the globe will enjoy the J-League as much as millions of Japanese fans have so far.