By the turn of the century, Japanese football began to experience a phenomenon that is seeing its peak only now : a consistent emigration of the best Japanese talents to Europe.
The brave but unlucky experience of Kazu Miura in Italy back 1994 was followed by a few more pioneers, but it wasn't until Hidetoshi Nakata moved to Perugia, in 1998, that Japanese football was taken seriously in the Old Continent.
It had taken 10 years of collective efforts, but "Hide" immediately turned heads with a brace against Juventus in his debut and paved the road for others that followed with alternate fortunes. Shinji Ono (at Feyenoord from 2001), Naohiro Takahara (Boca Juniors from 2001), Junichi Inamoto (Arsenal from 2001), and Shunsuke Nakamura (Reggina from 2002) and more of what was labeled as "Golden Generation, after their silver medal at the Under-20 World Cup in 1999, tried their luck abroad.
Nakata had his highs and lows, and called it quits as early as 2006, when he was not yet 30, but returned to Japan with a Scudetto he won with Roma and a Coppa Italia title he claimed with Parma.
Back at home, 2003 and 2004 were dominated by a single club: Yokohama F. Marinos (the "F" was added in honor of the Fluegels). Led by Takeshi Okada, who was at the helm of Japan's first World Cup back in 1998, the "Sailors" won both stages in 2003 and prevailed in a dramatic final in 2004 over a club that, after many misadventures, were to define the following years of Japanese football: Urawa Reds.
Based in Saitama, a prefecture north of Tokyo, the Reds had over the years become the first club able to count on a considerable number of supporters. Having inherited a 60,000-seater stadium that was built to host Japan's debut in the World Cup in 2002, the club that had seen among its ranks several German world-class players (Uwe Bein, Buchwald, Michael Rummenigge, etc.) had come of age after winning the Emperor's Cup in 2005, their first trophy.
Their main rivals were another suburban club, Gamba, that were located some 7 kilometres beyond the Yodo river in the northern outskirts of Osaka. The antagonism between these two clubs generated countless memorable matches beginning in 2005. Overdoing each other in turns, each of them managed to win their first, historical championship: Gamba prevailed in 2005, while Reds finally won their first J-League championship the following year.
Looking back at those exciting years, it is worth to indulge a bit on what happened on the last day of the 2005 season. On December 3, five teams took to the pitch with a chance to clinch the title: besides Reds, there were JEF United, Antlers and the two Osaka clubs, with Cerezo counting more points than the others and thus being the only team fully in control of their their destiny.
The unlikely underdogs seemed to have an edge, as they were still leading 2-1 over FC Tokyo in the 90th minute, but a late goal by Yasuyuki Konno dumped them to the 5th spot of the table on goal-difference. Their crosstown rivals Gamba Osaka, who had prevailed 4-2 at Kawasaki Frontale were beside themselves as they were handed the champions' pennant. The winners' shield was already out of its box at the Nagai Stadium, all set to be delivered to Cerezo, but had to be quickly packed and shipped to Gamba's office.
Gamba and Reds were the first clubs after Antlers in 1996 to win the J-League in their one-stage format The League had returned to this format in 2005, after 2003 marked the adoption of the international standard for points: games were limited to 90 minutes, three points were assigned for a victory, one for a tie and none for a defeat.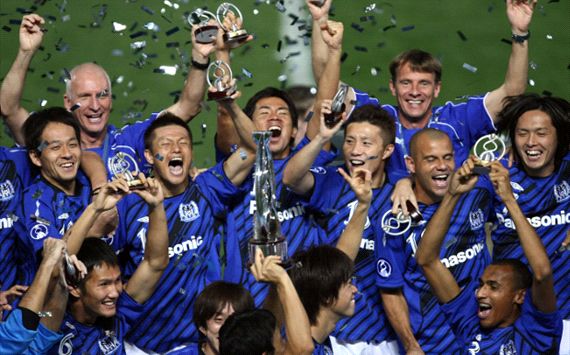 The same two clubs were the first to triumph in the new format of the AFC Champions League: Reds and their thousands of travelling supporters toppled Iran's Sepahan in 2007, while Gamba prevailed in 2008, after eliminating the Reds in the semifinal. Those proved to be the golden years for Japanese clubs in Asia.
The continental victories gave the chance to Gamba and Reds to measure themselves against two European football tycoons in the FIFA Club World Cup: Reds were defeated by Milan in 2007, while Gamba succumbed 5-3 to Manchester United in 2008, two very honourable results.
The two games, both well-fought by Japanese teams, helped to improve the outlook of the J-League in the eyes of the world, despite a rather unsatisfactory campaign for the national team in the 2006 campaign in Germany.
But the most important factor perhaps, despite abandoning the two-staged format, was that spectators kept increasing, as almost all championships' races turned in nail-biters decided only in the last days of the seasons.
Since 2005, J1 has grown to 18 clubs, a similar number to most European top leagues, while J2 kept growing, featuring 12 clubs from 2001 and 13 in 2006.
From 2004 till 2008, one of the spots for promotion from J2 to J1 was to be contested by home-and-away playoff games played between the teams that ended third from bottom in J1 and third in J2. These games, were called "Irekae-sen". They were among the most dramatic of the season, and saw some historical performances, including a 2005 Ventforet Kofu victory at Kashiwa Reysol by 6-2, in which the Brazilian Bare scored all six goals, a "double hat-trick."
The Irekaesen were discontinued after the 2008 season, but since 2012 the third spot for promotion is to be decided in a playoff among those who finished between third and sixth in J2.