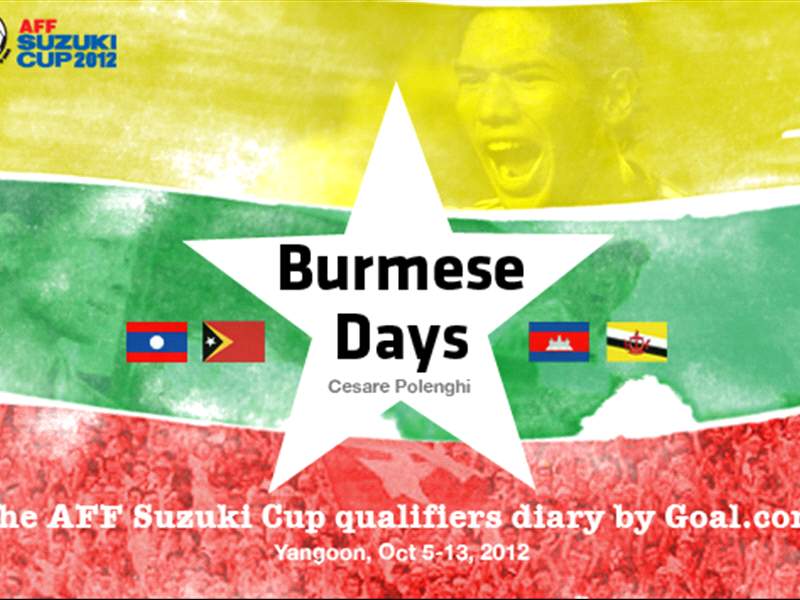 FROM YANGON, MYANMAR
Cesare Polenghi
cesare.polenghi@goal.com
@CesarePolenghi
In less than twenty-four hours, the AFF Suzuki Cup qualifiers will be over. I feel a bit like a student on the eve of the last day of the school-trip.
I am already packing my luggage, and thinking I will soon say goodbye to Yangon, the Thuwanna Stadium, and all the new friends I have met here. I am both happy for the great experience I had, and sad that it is almost over. But so it goes, right?
Tonight was the night of the gala dinner, and it was a chance to see all at once the people who have made these past days very special: the organizers were there, so was the Japanese delegation attached to the main sponsors, the local federation, the journalists and the coaches of the teams that have entertained me and their fans.
I first bumped into Emerson, and I immediately sensed his passion and his tension for the forthcoming game.
"Tomorrow is a big-big game," he told me immediately. Timor Leste came to Myanmar perhaps without much expectations, but they are on the verge of a little football miracle.
I talked a bit more with their Brazilian coach, who was visibly focused on the challenge, but also content with his team so far. We agreed that just to play tomorrow for a chance to qualify is an amazing accomplishment for such a new and young team.
A few meters away were Kokichi Kimura, his top rival in the race for a second spot to the tournament proper.
"Are you ready for the game tomorrow?" I asked him in Japanese before even greeting him.
"Game...? What game?"he laughed me away. I don't know if he was faking it or not, but he seemed completely sincere in his detachment.
He told me he is working to developing players, not yet to win tournaments, and facts prove him to be sincere, as he has basically used all his footballers in the three previous games.
As I was contemplating the Yin and the Yang of Kimura and Emerson, we were all pushed in the dinner hall, sat at round tables, and the gala started with a 5-minute highlights video of the eight games played so far.
Some of the matches were from yesterday, but they felt as if they were already part of some distant football saga. It is amazing how quickly the present becomes history, and -when football is involved- almost legend, I thought.
Also it is surprising how we football-people become "intimate" with teams and their players quickly. I knew almost nothing about the five teams one week ago, but when re-watching the images from the previous days, I recognized almost all players, as if we are now part of a common story, a tale about football that was played out in October 2012, in a faraway place: Yangon, Myanmar.
The gala's show continued with some local dances and other more modern oddities on the little stage, but for me, it was a chance to chat a bit more with the other journalists at the "Media" table, swap business cards and greetings, and drink some red Muntepulciano.
I ended up happily caught in a spiral of voices speaking in a language I don't understand, while the Italian wine that here in Myanmar tasted extremely exotic. And so, another evening just rolled by.
The atmosphere of comradeship and the enthusiasm peaked when Suzuki and other sponsors offered some prizes and a lottery was on. Everybody seemed genuinely excited.
A guy who was completely drunk and had tried several times to hug me won a digital camera, but he dropped the box as he received it. Emerson too won a prize, thou I am not sure of what it was. But surely a good omen, I thought!
The grand prize was a Suzuki scooter. Had I won it, I thought I could have tried to return to Singapore on it, while stopping over to watch minor leagues' football games across Southeast Asia. Alas, it went to some nice chap who surely deserved it more than me.
The irony, I was told, is that in Yangon motorbikes are not allowed.
How did I miss that? Especially considering I was just in Saigon, where there are more bikes than people? This oddity (an Asian city with no two-wheelers) was right in my face, but it took me the gala dinner's lottery to unlock the ultimate secret of Yangon!
I made it back to my hotel's room in time to watch Italy beating Armenia. Miraculously the broadcast was on! But I was distracted, as I kept thinking of the bike-less city.
I'll think of football tomorrow, when we find out which two teams will qualify.
Tomorrow -- the last Burmese Day.