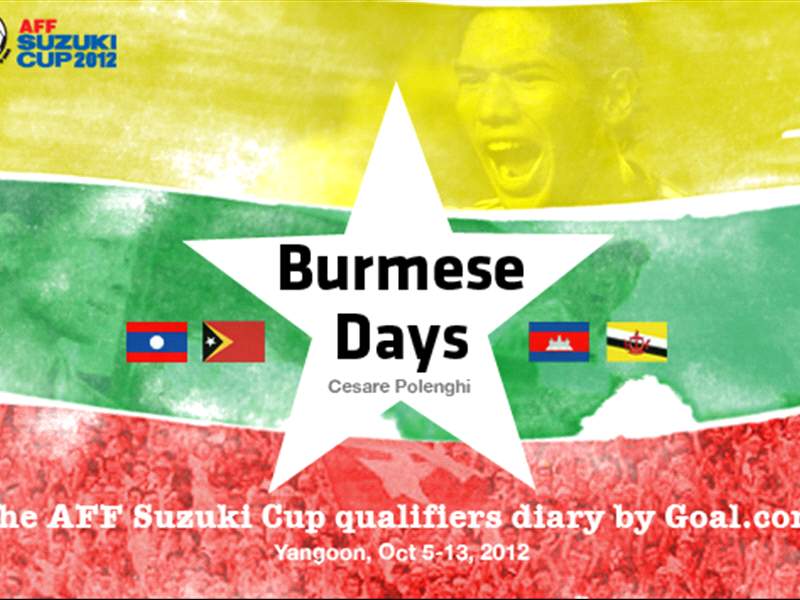 FROM YANGON, MYANMAR
Cesare Polenghi
cesare.polenghi@goal.com
@CesarePolenghi
A great thing about Southeast Asia is that here taxis are affordable. They take you from point A to point B quickly, effectively and cheaply. You can ride them when you're sleepy or you've had one beer too many; and if you have the patience to listen to the drivers, you often learn something.
Today, my taxi to the same old stadium here in Yangon got caught in one of those paradoxical traffic jams that happen when four cars manage to magically block each other in the middle of an intersection. Before they can back up and unclog the mess, another three have piled up behind, then another ten, then 100. My taxi driver walked out, looked around the hopeless situation then told me quietly: "No traffic light, no policeman." He then leaned on the car and lit up a cigarette.
It took about thirty minutes before the traffic somehow started to move. I saw an opportunity for a nap and I woke up as the mandala of cars was magically unfolding and we eventually found our way to our destination.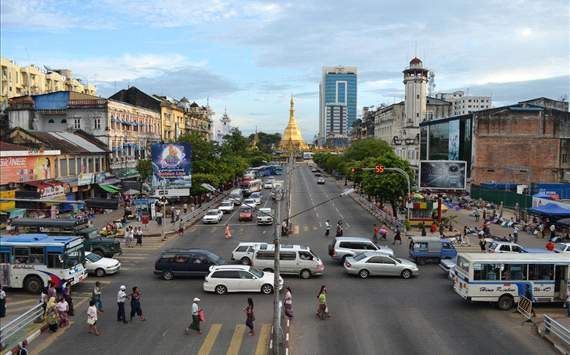 Half-asleep, I naturally connected the dots and saw the events of this journey as a metaphor for this region, and also for its football. The region's development has for years been blocked, as if constipated by the post-colonialism confusion, political experiments and the poverty resulting from many failures.
But just as my taxi managed to sputter out of the maze that seemed destined to trap us forever, Southeast Asia has also been moving forward for quite a few years--with Myanmar the newest country to join the change. Yep, it might still be more akin to a banger than a brand new model, but it moves on and, one after another, manages to reach its destinations.
How is this related to football? It is of course, because football is the best game invented by people so far, or at least the most popular, and it is of course a quasi-universal parameter by which countries and individuals measure themselves.
Between the two games today, for half an hour I was the guest of Mr. Soe Moe Kyaw, the director of the Media and Communications department at the Football Federation of Myanmar. We had a lovely chat in his air-conditioned room at the Thuwanna Stadium, exchanging opinions on local and Asian football at large.
I was not surprised to hear that the local league was inspired by the success of the J-League, and that Myanmar looks up to Japan as a football country. Who could disagree? "If there is one thing that is getting better in Japan nowadays, it has to be football," I remarked.
We parted with the promise to keep in touch and to work together to help the game grow in the region. It made me believe even more that, football-wise too, I am in the right place at the right moment. These are the years for brave new ideas, for great challenges, and - why not? - for the enjoyment of seeing the game blossoming in Asia.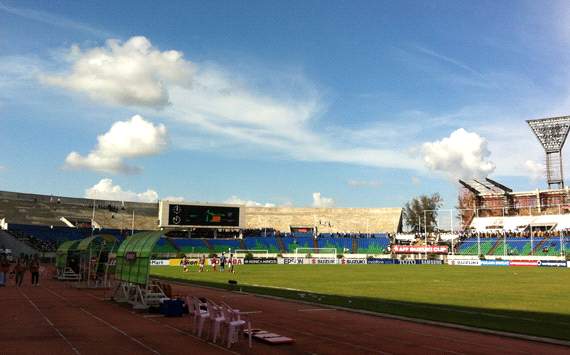 The stadium was almost deserted today, as Myanmar had their bye. My friend Zarni told me there were probably 300 security guards, 200 volunteers and 100 spectators. Some of them were a small group of Brunei supporters I assume working at the local embassy. They saw their team win 3-2 against Cambodia in a very entertaining game.
As darkness fell on the stadium, the second match felt even more of an intimate affair, and we could hear the voices of the players quite clearly. As Timor Leste netted their second goal against Laos (the Timorese run out eventual winners with a 3-1 victory), their goalie asked one of the centerbacks: "Hey who scored?" Even more we could hear the screams of joy coming from their bench as the game was finally over.
During the post-game press conference, Timor's manager Emerson was very proud of their achievement. It was one thing managing to win a game, their first ever, a few days ago. Now, his small adoptive country is one step from a historical result: qualification to the AFF Suzuki Cup proper.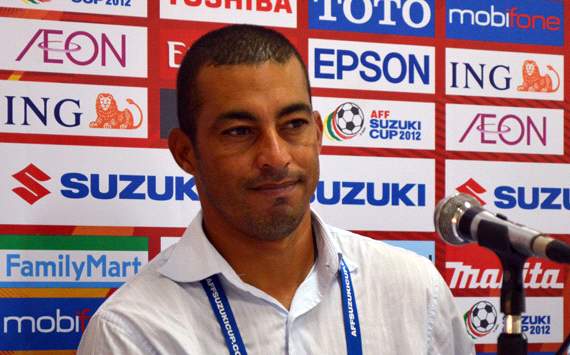 I asked Emerson what was the meaning of this victory. His simple words closed the circle for my day of metaphors and mega-theories on life and football in Asia. "This victory is very important for our people, and it can motivate Timor as a country. Maybe as many as 70% of the population were watching us. Football can help to make people's lives better, and I believe today we made our country happy," he said.
And I say: "Amen."