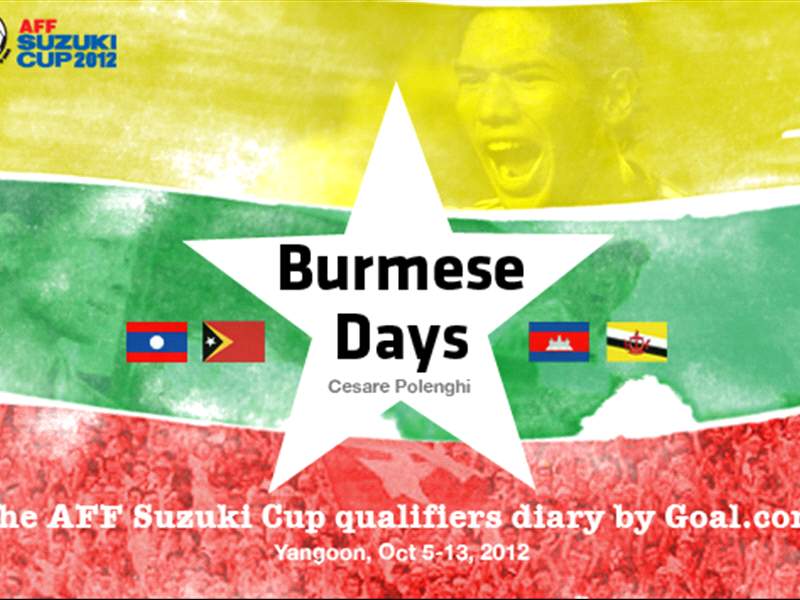 FROM YANGON, MYANMAR
Cesare Polenghi
cesare.polenghi@goal.com
@CesarePolenghi
Day 1 - October 4
Let's get the ball rolling on every street in Asia!
My first hour in Myanmar has been a bit of a time warp. Empty dark streets with only a few battered old taxis sputtering around coupled with people eating and drinking at stalls by the roadside under dim lightbulbs suddenly brought me back to how Thailand and the rest of the region used to be when I first visited, more than 20 years ago.
But even more evocative was the scene I saw before that, at Yangon International Airport, where thousands of people had religiously gathered with flags and banners to cheer Aung San Suu Kyi, who landed only a few minutes after me.
This peaceful political enthusiasm brought me back to my first ever assignment as a reporter, when in 1989, I traveled from my native Italy to Prague by train, to document the political changes of the country then called Czechoslovakia.
Twenty-three years later, I have been prompted to visit another corner of the Eurasian continent, this time not to snap pictures of social changes, but to tell the story of one of the most uncharted tournaments in Asia.
I am in fact in Yangon for the qualifiers of the AFF Suzuki Cup, which sees the bottom five ranked national teams of Southeast Asia locking horns in ten games over ten days, to secure two prestigious spots in the final phase of the tournament.
While in Europe another round of UEFA Champions League has just moved millions of hearts (and millions of Euros as well), we roll toward another weekend of promising major football, featuring classics such as Barcelona-Real Madrid, Marseille-PSG and Milan-Inter.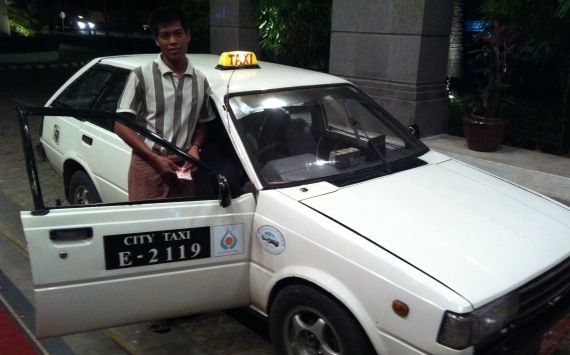 Alas, the heroes in shorts I am going to watch here come from Brunei, Cambodia, Laos, Myanmar and Timor Leste. Not many in the world have ever heard of them, and few outside the region could find their countries on a map. But by no means are the qualifiers irrelevant.
Southeast Asia's tragic history of warfare finally came to an end a few decades ago. Yes, more or less, just as in Europe, sport in general and football in particular, has become a more peaceful surrogate for the "need to fight," and an equally important matter of national pride.
An example close to home? Only a couple of months ago, more than 25,000 gathered at the Thuwunna Stadium here in Yangoon to watch their Myanmar U23 team play Taiwan U23.
This is more or less the same number of people who last Wednesday were at the seasonal home debut of the UEFA Champions League to witness the Juventus vs Valencia clash!
Football has begun to penetrate the soul of the supporters in every corner of Asia. Cable TV and the Internet now showcase the feats of the modern gladiators from Europe and South America.
Local fans here as well mainly follow the European Leagues, and huge posters of Leo Messi are as ubiquitous in Yangon as they are in any city of the world.
Yet, domestic football is on the growth as well, and when The Game mixes with national feelings, the cocktail will be explosive here in Myanmar just as everywhere else around the globe.
As I stepped out from my hotel for a late dinner, the first polaroid of Yangon's nightlife was provided by a bunch of teenagers kicking around a deflated ball in the street.
I was too tired and hungry (and perhaps a bit too out of shape as well?) to jump in. But I got a strong feeling I had come to the right place.