---

BY MUSTAPHA "EL LOCO" KAMARUDDIN

---
HOLA!
HE is back with Perak after 14 years. This is the story of none other than the controversial, no-nonsense but yet successful German tactician Karl-Heinz Weigang.
A young talented but lacking in experience Perak side, under coach Abu Bakar Fadzim, are struggling and favourites to be relegated from Malaysia Super League (MSL) to Malaysia Premier League (MPL) next season.
The side practically comprises of the Under-21 squad players who excelled in recent years, play some delightful attacking game but unfortunately find it extremely difficult to find the net.
The presence of foreign strikers do not help much either. Consider this, Perak have only scored mere six goals from 14 matches in the MSL. This is surely not the Perak the fans know.
And this is where the vastly experienced Weigang comes in, as a technical advisor for the time being, at least. His task is to try to prevent Perak from going down, obviously.
Perak fans have never suffered this agony of seeing their team playing for the first time in the second tier -- since the semi-pro was introduced in 1989.
The Silver State, under coaches like Weigang, M. Karathu, Tony Netto and Steve Darby, have never missed the boat for the Malaysia Cup during this period, either. There were a lot of great moments then.
Weigang, like him or not, has all the credentials after being involved with the beautiful game for decades in Africa and Asia.
He was the coach of Malaysia when they qualified to the Moscow Olympics in 1980 and the Asian Cup the same year. Those were the last time the Malaysians qualified for those competitions.
He also steered Perak to Malaysia Cup glories in 1998 (the first in 28 years) and 2000 when he was hired by the then equally successful manager Datuk Raja Ahmad Zainuddin Raja Omar.
Weigang, on his arrival in Ipoh last week, told reporters he is making a return as he has yet to 'finish some business' in the local football scene.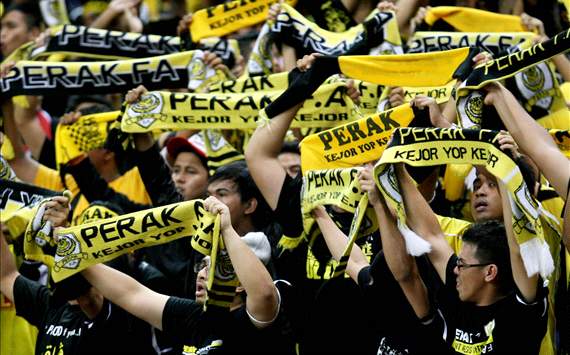 Perak fans are hungry for success.
However, he said his main objective is to help Perak but quickly reminded fans he is no magician.
Weigang said he cannot do it alone. He added everyone involved, including supporters, must assist in this tough task of escaping relegation.
True. He is no magician but one thing is for sure, Weigang will be focusing on his task as usual.
Perak, in their bid to survive relegation, signed up two strikers during the last transfer window in former Red Star Belgrade's Milan Purovic from Montenegro and Abdulafees Abdulsalam of Nigeria.
They have also signed 33-year-old Brazilian attacking midfielder Marco Tulio, who started his career with Cruzeiro.
The trio have added some bite into the attack but still these players need more time to really settle down with the team who are struggling and lacking in confidence.
Whatever, it was a good move for Perak to bring back Weigang to help out but it is going to be tough.
And sadly, this move may be already too late to save Perak or Bos Gaurus from the dreadful relegation.
However, even if Perak fail to survive, it would be a good move if Weigang is retained next season to achieve a quick return to the elite division.
That is if the wily German agreed to do so.
Adios!
Mustapha 'El Loco' Kamaruddin is an experienced sports journalist who is crazy about football. He has been following football, both at local and international scenes for over two decades. He is also a columnist with The Malay Mail.