---

BY JASON ONG

---
My interest in the J-League and Japanese football started in the mid-90s when I became addicted to a Playstation game called J-League Jikkyo Winning Eleven 3. There was no live coverage of the J-League in Malaysia at the time; the only way to follow the league was through a weekly 30-minute highlight show called Football Asia on Star Sports that featured major leagues around the continent. Today it's easier to follow the J-League as Malaysia's pay TV service provider, Astro, shows one full match and a 30 minutes highlight show every week.
I support Juventus and my hometown team, Terengganu. I do not have a team in J-League, but I admire several players. My favorite J-League player is Yasuhito Endo. When the 2014 J-League schedule was announced earlier this year, I decided to fly all the way from Kuala Lumpur to Osaka to watch the match between Gamba Osaka and Kashima Antlers. I chose this match because Kashima Antlers are the J-League's most successful club with seven league titles and over 20 trophies!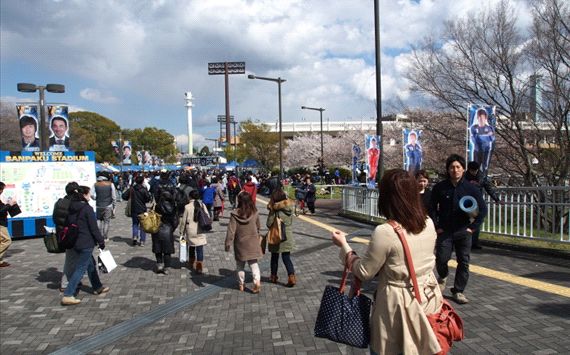 The scenery was breathtaking along the way to Banpaku Stadium, as cherry blossom season had begun. The atmosphere outside the stadium was like a carnival, with supporters enjoying food and games while viewing the sakura. There was also a booth set up to raise funds for Gamba's new stadium.
The gender ratio of supporters attending the match was more equal than what I am used to at stadiums in Malaysia. Football is not just a men's game in Japan; women are equally fanatical about the sport. It's normal to see them shopping for uniforms and other team merchandise, which is something we don't see in Malaysia. Their passion for football is one of the reasons why women's football in Japan is far more advanced than the rest of Asia. Just before the match, the Young Nadeshiko team won the FIFA U-17 Women's World Cup after beating Spain 2-0 in the final.
Unlike other parts of the world, J-League fans' passion for their team does not result in hatred against opposing supporters. There were many away supporters walking freely around the stadium and eating next to home supporters just before the match. There are no barriers separating home and away supporters inside the stadium, either. I bumped into one Kashima Antlers supporter from Brazil on the monorail to the stadium, as well as a small group of tourists from Hong Kong. The J-League is not just a "Japanese only" competition; it's popular around the world.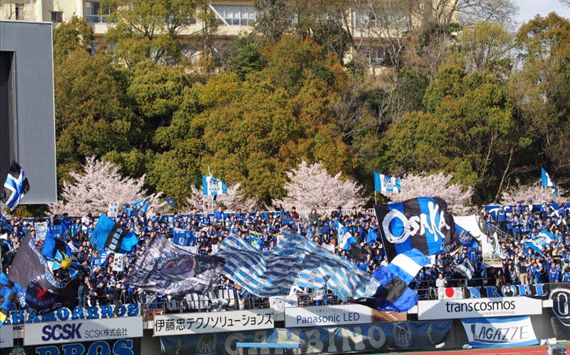 The atmosphere inside the stadium was fantastic. I heard two groups of ultras chanting non-stop at both ends of the stadium, from before kick-off until the final whistle. They chanted for their team as well as the individual players. The chants were very organized and never stopped even when their team was losing.
The rest of the supporters occasionally joined the ultras as well. The atmosphere is comparable to Juventus Stadium, even if Banpaku Stadium is only half that size. The other thing I enjoyed about this stadium was its suitability for children; there was no swearing or jeering. Unlike in Malaysia, almost everyone at the stadium wears the team colours despite the high prices. A replica J-League uniform is almost as expensive as a European authentic uniform, but there were no Manchester United or Real Madrid kits to be seen. I was also very mpressed with the cleanliness of the seats; they were not dusty like stadium seats in Malaysia and Europe.
BATTLE OF TWO GREAT PLAYMAKERS

YASUHITO ENDO

VS
GAKU SHIBASAKI

Just like in Italy, the playmaker plays an important role in Japan. Since its introduction 20 years ago, the J-League has produced many world class playmakers such as Hidetoshi Nakata, Shunsuke Nakamura, Shinji Ono, Keisuke Honda, Shinji Kagawa and Hiroshi Kiyotake.

Some Japanese media called this match a clash between the league's top two playmakers in Yasuhito Endo and Gaku Shibasaki. "Yatto" does not need any introduction, having already made his name as one of the world's best playmakersand one of the best set piece takers during the 2010 World Cup. Shibasaki is just 21 years old and was named the league's Young Player of the Year in 2012.

Shibasaki emerged as the winner of this individual battle after being directly involved in both Antlers goals and creating two more goal scoring opportunities for Davi. His performance gave him a spot in Goal's J-League Round 6 Best XI. As for Endo, he failed to lift the team against Kashima's domination in the second half and also misplaced a couple of passes.

While Endo's position in Alberto Zaccheroni's Samurai Blue is almost untouchable, Shibasaki is working hard to earn a ticket to Brazil this summer. I hope Shibasaki impressed Zaccheroni in the recent national team training camp and makes his first World Cup appearance in Brazil this summer.

Overall, it was a great match of football. Gamba need to improve, and I am sure they will when Takashi Usami comes back from injury to provide them with more attacking options.

It's good to see Kashima Antlers doing so well even without their top scorer from last season, Yuya Osako. The emergence of great young players such as Shibasaki and Gen Shoji is good for both J-League and Japan's national team.

I will definitely come back to Japan for another J-League match. While Japanese clubs have underachieved in the AFC Champions League recently, I still believe that it is the most entertaining league in Asia and produces the best talent in the continent.