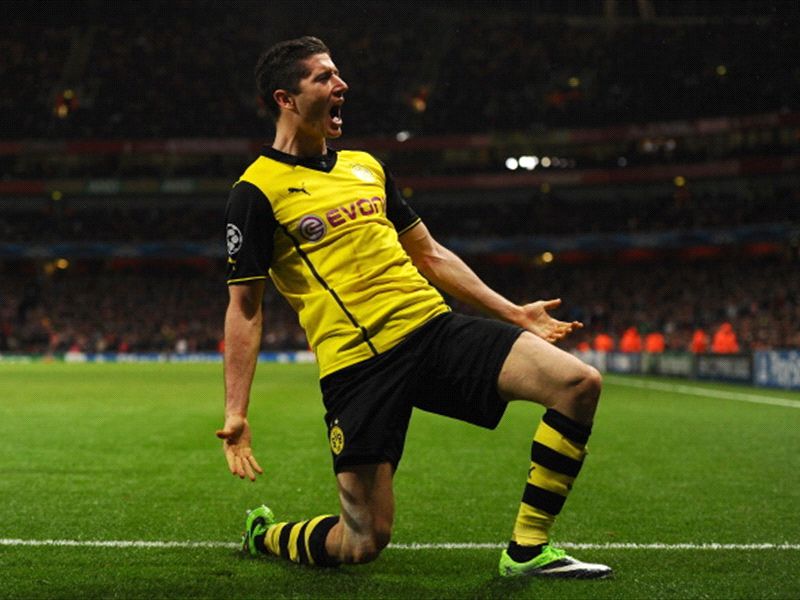 HOLA!
Robert Lewandowski partnering Lionel Messi, Neymar and the likes of Alexis Sanchez, Pedro upfront for Barcelona?
Awesome, isn't it?
And they will be supported from behind by people like Andres Iniesta, Cesc Fabregas and Xavi.
This can happen and what a great piece of news it would be for Barca supporters.
The neutrals would also love to see yet another big name showing off his talents to make things more interesting in the Primera Liga.
Yes, Barca are now ready to compete for the Borussia Dortmund star striker.
Marca reports that Lewandowski is one of manager Gerardo 'Tata' Martino's preferred strikers. And the Catalans will be at the front of the queue to sign him when his contract with Dortmund expires on June 30.
The Pole goal-machine, only 25, has already denied reports he is committed to moving to European and German champions Bayern Munich.
English giants Chelsea and Manchester City have also been linked to Lewandowski but Barca director of football Andoni Zubizarreta is ready to table a pre-contract offer to the striker's camp for consideration.
Barca practically do not have an out-and-out striker since David Villa left for Atletico Madrid in the summer.
Lionel Messi has been playing that 'false No. 9' role, even before Villa left. Versatile Cesc Fabregas has also been playing this role at times.
With Lewandowski around, the Barca attacking unit will be deadlier as he is a great finisher. The fact that he is a six-footer will also help in aerial tussles besides his scoring instinct or prowess.
The Warsaw-born Lewandowski played a major role for Dortmund in reaching the Champions League final last season only to be beaten by Bayern.
He joined Dortmund from Lech Poznan in 2010. He has made 103 appearances for the German club and scored 58 goals.
He has 56 caps for Poland since making his debut in 2008 - with 18 goals to show.
If Lewandowski joins the Nou Camp brigade, Martino will surely have another great option upfront.
Talking about Martino, the Argentine tactician has defended the form of his countryman Messi.
Messi has scored only once in the past month after recovering from a thigh injury. He is struggling to regain the kind of form expected from a wizard like him.
"If Messi doesn't score three goals in a game people start to think there's a problem," said Martino.
"Injuries happen. To Messi, or anyone."
Messi, 26, has nothing much to prove, really. And he should be able to find that form even sooner if he is not injured.
Oh yes, Real Madrid superstar Cristiano Ronaldo's celebration for his first goal in the 7-3 win over Sevilla in a Primera Liga match at Santiago Bernabeu on Wednesday was a clear swipe at FIFA president Sepp Blatter.
Ronaldo's first of his hat-trick in the game was scored from the spot and after converting he promptly stood up straight and gave a military salute.
Blatter has since apologised to Real for mocking Ronaldo in a speech last week at the Oxford Union where, among other things, he labelled the Portuguese a 'commander'.
Blatter, who was at the Bernabeu for the game, did not seek out Ronaldo to explain his behaviour afterwards though.
'Commander' or not, Ronaldo is on a high with his scoring act. On top of that, Gareth Bale is beginning to show what he is capable of by scoring when he did twice against Sevilla.
And the lethal Ronaldo-Bale combination can improve. This will make the battle for the Primera Liga title more exciting.
Adios!