By KS

Leong
When Paris Saint-Germain were paired with Barcelona during the draw for the quarter-finals of the Champions League, Zlatan Ibrahimovic will have experienced mixed emotions. Being one of the favourites to win the competition, the
Blaugrana
were the team most sides were desperate to avoid. However, more importantly for the powerful attacker, the tie means a chance to get his revenge over Barca.
After successful spells with Ajax, Juventus and Inter, Ibrahimovic opted to join Barcelona in the summer of 2009 in the hunt for the one major title still missing on his resume: the Champions League.
Things were not meant to be for the 31-year-old at Camp Nou, however, as he failed to live up to the high expectations in Catalunya. After just one season at Barca, Ibrahimovic moved on again as he returned to Serie A to ply his trade with AC Milan after falling out with Pep Guardiola.
Ever since his departure from Camp

Nou

in the summer of 2010, the Swedish striker has fired numerous verbal attacks at his former employers and their ex-coach.
Zlatan's

tirades towards

Barcelona

in the past have certainly done their part in adding another dimension of excitement to the encounter between PSG and the Liga giants.


The striker was unable to get his revenge against Barca with Milan last term, but he will be desperate to make amends this time around and guide Paris Saint-Germain to the semi-finals.

Below, Goal.com charts the war of words between

Ibrahimovic

's camp and Barcelona's circle.
"
Jose Mourinho is a big star ... he's cool. Mourinho is Guardiola's opposite. If Mourinho brightens up the room, Guardiola pulls down the curtains and I guessed that Guardiola now tried to measure himself with Mourinho.
"
– Ibrahimovic takes a jab at Pep by praising his closest rival and suggesting that the Barca coach was a 'Special One' wanna-be.

"
It was a childhood dream [to join Barcelona] and I was walking on air. It started well but then Messi started to talk. He wanted to play in the middle, not on the wing, so the system changed from 4-3-3 to 4-5-1. I was sacrificed and no longer had the freedom on the pitch I need to succeed.
"
– The big Swede recounts how it all went pear shaped for him at Camp Nou.
"Lionel Messi is awesome. He's unbelievable, but I don't really know him. We are totally different. He came to Barça as a 13-year old. He's raised in that culture and has no problems with that 'school' sh*t. In the team, the play is all around him, pretty naturally actually. He's brilliant, but now I had arrived [at Barca] and scored more goals than him."
- Ibra hails Leo, but spills the beans on how the Argentine had to be the team's main goalscorer.
"
I told him [Guardiola] what a friend had said to me - 'you bought a Ferrari but drive it like a Fiat'. The chat seemed to go well but then Guardiola started to freeze me out.
"
- Zlatan must have realised then that Pep was neither a Ferrari nor a Fiat fan.
"
Barca players were banned from driving their sports cars to training. I thought this was ridiculous - it was no one's business what car I drive - so in April, before a match with Almeria, I drove my Ferrari Enzo to work. It caused a scene.
"
– Ibra admitting that he was the bad boy in the classroom.
"
I felt like crap when I was sitting in the locker room with Guardiola staring at me like I was an annoying distraction, an outsider. It was nuts. He was a wall, a stone wall. I didn't get any sign of life from him and I was wishing myself away every moment with the team. Then Guardiola started his philosopher thing. I was barely listening. Why would I? It was advanced bullsh*t about blood, sweat and tears, that kind of stuff.
"
- Zlatan disclosing Guardiola's training and coaching methods that have won Barcelona 13 trophies in less than three years.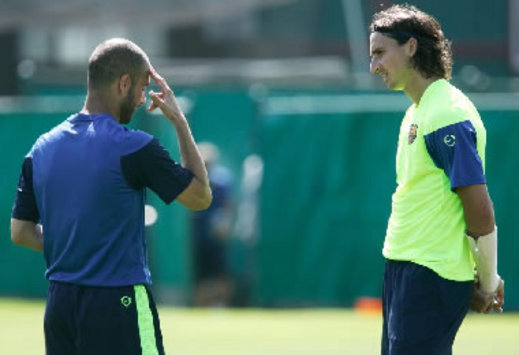 Focus Ibra, focus |
Zlatan only interested in Pep's bald head and not the advanced bullsh*it

"
If you have a problem with me, it's up to you to solve your problem. You are the leader, you are the coach. You can't have a good dialogue with 20 people, and then with the 21st, you look away. In my book, a great coach solves his problems. A small-time coach runs from them
."
–
Winning an unprecedented six trophies in one season - his debut season - wasn't enough to make Pep a big-time coach in

Ibra's

eyes
.
"
People say he [Guardiola] won six trophies, they are the best team in the world. I could have coached that team. With a squad like that, you should win, no doubt about it. They can play without a coach. They can have four out injured and still win, that's how good they are.
"
– Zlatan has high praise for his former Barca team-mates, but still no gold stars for Guardiola.

"He reminds me a bit of Mahatma Gandhi when he is preparing his team in his talks in the locker room."
- Ibrahimovic describing Guardiola's approach to locker room team talks.
"Guardiola wants to be perfect in public. Tiger Woods wanted to be
perfect too, but nobody is."
- First Pep was Gandhi, now he's Tiger Woods.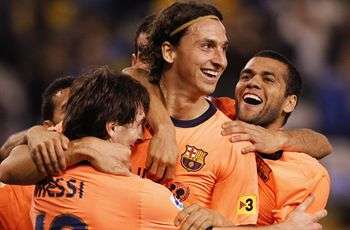 "
I had done a lot to adapt - the Barca players were like schoolboys, following the coach blindly, whereas I was used to asking 'why?' I like guys who run red lights, not pedantic and strict rules. So I tried to be overly nice, didn't dare lose my temper.
"
- Ibra didn't do very well in the end in his attempts not to lose his temper.
"
Guardiola was staring at me and I lost it. I thought 'there is my enemy, scratching his bald head!'. I yelled to him: 'You have no balls!' and probably worse things than that
."
–
The argument that took place in the locker room between Ibra and Pep after Barcelona's Champions League semi-final clash with Inter in 2010
.
"
You are sh*tting yourself because of Jose Mourinho. You can go to hell!"
– Ibra continues his rant at Guardiola after claiming the Barca coach had "no balls!".
"
I threw a box full of training gear across the room, it crashed to the floor and Pep said nothing, just put stuff back in the box. I'm not violent, but if I were Guardiola I would have been frightened."
– Guardiola taking the Gandhi approach to responding to verbal assaults and physical threats.
"He threatened to beat Guardiola in public. He said 'if you do not let me go I will paste him in front of the press'".
– Barcelona's corporate vice-president Carles Vilarrubi reveals just how "not violent" Ibra was.
"Ibra never really got on the same page as the rest of the team. Signing him was a mistake."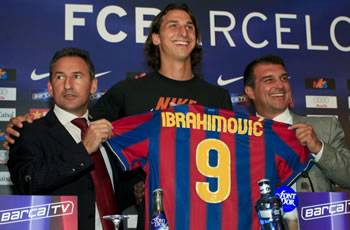 - Former Barcelona president Joan Laporta admits he made the wrong move bringing the big Swede to Camp Nou.
"Laporta said that they made a mistake when they signed me? That's not what he said before he signed me."
- Ibra takes a shot at the man who brought him to Camp Nou.
"There was only one person [at Barcelona] who wanted to get rid of me. I have never had problems with any coach before during my career. But suddenly I had a thousand problems and I had no communication with 'the Philosopher'. No communication whatsoever. I don't know what his problem was. I am 28-years-old and cannot afford to lose a year sitting on the bench and watching the weather."
- Ibra takes a shot at the man who forced him out of Camp Nou.

"The president said: 'Which club do you want to join?' I replied: 'Madrid.' Rosell replied: 'That is not possible. You can go anywhere but there.'"
- Did Ibrahimovic really think Barca would let him join Real, or was he just testing Rosell's patience?
"I want you to know that this is the worst piece of business I have conducted in my life."
- Barcelona president Sandro Rosell to AC Milan CEO Adriano Galliani and Ibrahimovic's agent Mino Raiola upon finalising the striker's move to the Rossoneri, to which Ibra replied:
"It's the result of bad leadership."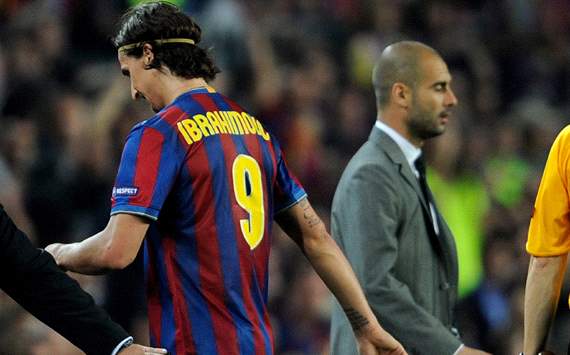 I Am Zlatan |
Ibra and Guardiola never could see eye to eye
"
[I have] nothing to say. There was nothing personal. I just want to thank him for the year he gave us where we reached 99 points [in La Liga]. He played, he proved his quality and helped us reach the semi-finals of the Champions League. There is nothing more to say.
"
– Guardiola deciding not to air his side of the story in the fractious relationship with Ibra, choosing instead to thank him.
"Before Ibrahimovic came here [to Barcelona] I thought he was a fantastic player. After getting to know him, I think he is even more fantastic."
- Guardiola praising his former striker despite being ripped apart in the player's book. Or is this just Pep appearing "perfect in public"?
"You have to get more out of the qualities you have. You have to be effective, especially if you come to a big club from another country. That is one of the details Ibrahimovic must learn because if you lose the ball as a forward in Italy it makes no difference. But if you lose the ball as a forward at Barcelona you're the first one to get running."
- Johan Cruyff, who first criticised Ibra as having "bad technique for a good player" when the striker was first at Ajax, maintains his stance on the Swede during his Barca stint.
"
Why didn't Cruyff tell Zlatan that he wasn't suited to Spanish football before Barcelona signed him? I think Cruyff should be in a mental asylum with Guardiola, so they can sit there quietly and play cards together. They would be doing Barcelona a great favour.
"
– Mino Raiola, Ibrahimovic's agent, hits back at Johan and throws Pep under the bus (or into the asylum) for good measure.
"If you don't play a footballer after spending €65 million, then you should be sent to a mental hospital."
– Raiola really wants Guardiola in that asylum.