By Thana Wongmanee
In football, success on and off the pitch does not simply come down to talent and tactics, but requires years of meticulous planning.
With this in mind, Goal.com presents a statistical and structural evaluation of five top clubs in the South-east Asian region along with a verdict on why these teams are head and shoulders above the rest.

In this edition, we take a look at one of the most prestigious clubs in Thailand, SCG Muangthong United.
They are one of the most successful clubs in Thailand. SCG Muangthong United are the first team to win the Thai Premier League three times and are also a one time 'Kor' Cup winner. On a continental level, they reached the semi-finals of the Asian Champions League (ACL) in 2010.
They were founded under the name 'Nongjok Withayanusorn School' in 1989 by Mr. Worawee Makudi, who later became the President of the Football Association of Thailand. Previously they entered the 'Ngor' Cup, the lowest amateur competition in Thailand. This was until Mr. Rawi Loethong, owner of Siam Sport Syndicate, the biggest sports media tycoon in the country, stepped in and took over in 2007. He renamed the team to Muangthong Nongjok United and that was where the rise had begun.
Muangthong amazingly conquered three divisions in three years. From Division Two, then Division One, and finally, the Thai Premier League. They even successfully defended the title in 2010 and reached the semis of the ACL in the same year.
In 2012, Siam Cement Group (SCG) signed up as title sponsors and under the new name 'SCG Muangthong United', they became the first team to win Thailand's top league three times - this time going through the season undefeated.
YAMAHA STADIUM


This ground used to be called the 'Thunderdome Stadium', primarily because it's located near the dome. After the amazing progress of the club, they finally landed a title sponsor in 2009 - Yamaha. The 'Yamaha Stadium' added three stands and more facilities. The renovation continued in 2010. The pitch was re-laid with a fine breed of Paspalum grass and 9,000 seats were added. In 2012 the name was changed to 'SCG Stadium' and now the capacity is 17,500.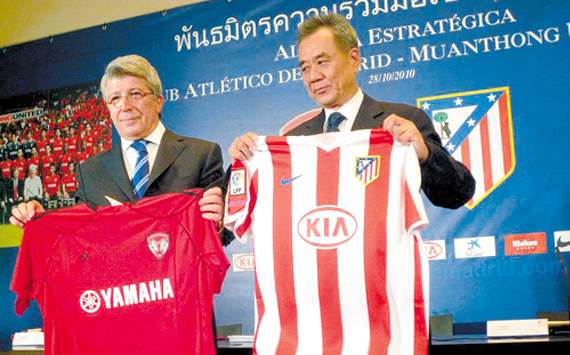 SCG Muangthong United is one of the most active clubs in finding affiliates, both local and foreign. But the highlight is undoubtedly their partnership with Spanish La Liga side, Atletico Madrid, which started in 2010.
The Muangthong-Atletico partnership fully bloomed in 2013 when Teerasil Dangda, the Kilin's number one striker, had a chance to tryout with Atletico senior team. The forward trained alongside the likes of Radamel Falcao, under the eye of Diego Simeone, for about a month.
Atletico Madrid have also aided the development of youth players as they welcomed more than 10 youngsters from Muangthong to Spain. Not to mention the fact that they have also introduced SCG Muangthong United across Europe.
The Nonthaburi side also has Jubilo Iwata as their new partner, recently arranging a friendly match which took place in January.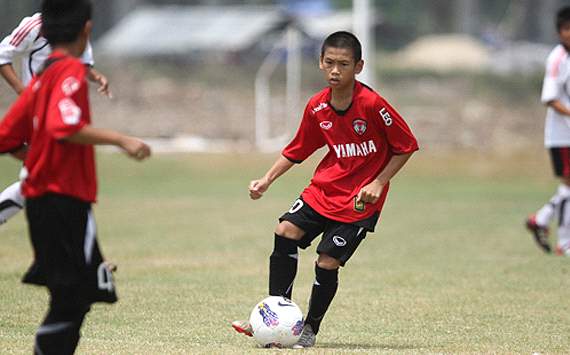 At first, they joined the JMG Academy in Thailand to establish a training center that nurtures youth players for the senior level. Now they've grown their youth development to include schools that have displayed strength in football like Assumption Thonburi School (which Teerasil and Kawin used to attend), Pothinimit Withayakom School, Satree Withaya 2 School and Sara Withaya School.
In 2013 they geared up their youth development by sending out players to play for Nakhonnayok FC in Division Two. They also landed Andrew Ord, EX BEC TERO Sasana Youth Coach, to take care of this Academy.
"I believe in our youth players' potential. All of them are gifted. It's obvious that all of them dream of playing for senior level," Andrew told
Goal.com Thailand
.
In early February, they sent the second batch of youth players, along with a coach, to Atletico Madrid with plans to nurture them for about one year.
| | | |
| --- | --- | --- |
| | | |
| Mario Djurovski | Teerasil Dangda | Kawin Thammasatchanan |
| The Macedonian playmaker joined in 2012 and has already established himself as an indispensable member of the team. His 15 goals and 14 assists proves that he played a vital role in Muangthong's success. | Arguably the best striker in the country, Teerasil has played for Muangthong since their Division Two days. After his adventure at Manchester City, he came back and marched into the team and helped them pick up three TPL titles. Last season he scored 24 goals in the TPL - a new record for Thailand's top league. | The goalkeeper is blessed with ability. He was the first player of SCG Muangthong United who had a realistic chance to play in Europe. Even Manchester United reportedly used to have eyes on him. |
RONNARIT SUEWAJA - GENERAL MANAGER

Ronnarit Suewaja is a businessman who is filled with passion for the beautiful game. He's the main dynamo in the club's management, marketing and signing of big name players.



SLAVISA JOKANOVIC - HEAD COACH


The 44-year-old was hailed as manager of the year after leading Partizan Belgrade to two league titles in two years. And his first challenge in Thailand was beautifully conquered when he turned Muangthong into undefeated champions in just his first season in charge. He is also the first foreign coach to win Manager of the year and the Siamkeela Golden Ball award.
The club needs no introduction. Currently this is the number one club in Thailand, period.
This is a club filled with pride and honour, going strong along with the whole Thai football scene.
SCG Muangthong United have professional management and an extremely wide outreach. It's no surprise that the Kilins have one of the strongest fan bases in Thailand.
The invincibles will face tough opponents in the ACL, as well as top teams in the TPL who will do their utmost to knock Muangthong United off their perch. But with everything they have, Muangthong is more than ready for every challenge that awaits in 2013.
Stadium
OVERALL
Facilities
4

Youth System
Club Affiliation
Key Players
Management