By Keeshaanan Sundaresan
In football, success on and off the pitch does not simply come down to talent and tactics, but requires years of meticulous planning. With this in mind, Goal.com presents a statistical and structural evaluation of five top clubs in the South-east Asian region along with a verdict on why these teams are heads and shoulders above the rest.

In this edition, we take a look at one of the most prestigious clubs in Malaysia, Kelantan.


Founded in 1946 as an amateur football side, Kelantan FA have grown by leaps and bounds to their present state. The team is based in the state of Kelantan, traditionally a conservative Muslim area. Kelantan have consistently been a decent team throughout their history, producing top-class national team players such as Mustafa Hashim, Hamid Ramli and Kamaruddin Hamzah.
But the footballing landscape in Kelantan changed in 2007 when Tan Sri Annuar Musa (TSAM) took charge of the Kelantan Football Association (KAFA) leadership. His arrival brought several changes in terms of how the team was managed, immediately seeing returns as Kelantan went on to finish as runners up of the Malaysian Premier League in his first year. As a result, they gained promotion into the country's top tier, the Malaysian Super League, for the 2009 season. The Red Warriors finished sixth in the league, leaving a strong impression by emerging as runners-up in both the FA Cup and Malaysia Cup.
But 2010 proved to be their major breakthrough year. Kelantan performed consistently in the league, finishing second and ending their silverware drought by emphatically lifting the Malaysia Cup. It was a momentous period in which Kelantan finally announced their arrival as a major powerhouse.
Then came 2011, when the Red Warriors lived up to expectations by winning the league title for the first time in their history as well as reaching another Malaysia Cup final. But manager Datuk M. Karathu departed from his post, paving the way for Peter Butler to take charge.
Though Kelantan started the 2012 season with equally high expectations, the club got off to a controversial start after an apparent spat between Peter Butler and Tan Sri Annuar Musa. The Englishman was dismissed in favor of Croatian Bojan Hodak, and the rest was history. Kelantan dominated Malaysian football by claiming a historic treble, while also reaching the quarter-finals of the AFC Cup in their maiden appearance. It was a fitting conclusion to a five-year span in which Kelantan evolved from a second division side into perhaps the best side in Malaysia.
SULTAN MOHAMMAD IV STADIUM

Sultan Mohammad IV stadium, home of the Red Warriors, was constructed in 1967. It's one of the grounds in Malaysia that never fails to sell out most of its matches. With a capacity of almost 20,000, the Sultan Mohammad IV stadium boasts a 119x100 meter pitch. Besides providing football-related facilities, the surrounding complex also features tennis courts, a synthetic running track, and offices for sports-related purposes. The stadium is strategically located at the heart of Kota Bharu, Kelantan.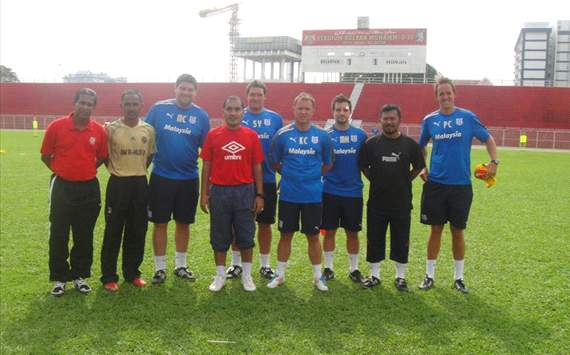 CARDIFF CITY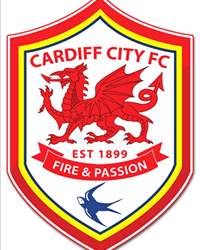 The collaboration sees both sides exchange ideas in terms of how to run a professional football club as well as the continuous aim of improving the level of football in Kelantan.


Kelantan FA work hand-in-hand with Cardiff City, which is a Malaysian-owned club based in Wales competing in the Championship.
The Red Warriors also have a partnership with Blackburn Rovers, courtesy of former Malaysian international Shebby Singh who is a global advisor at that club. Kelantan recently sent two players, Dimitri Petratos and Faizol, over to the Rovers for a month-long trial. Both men will train with the first team and receive assessments from the coaches.
Both of Kelantan's partners share their academy development tips, coaching expertise in addition to providing training stints for players.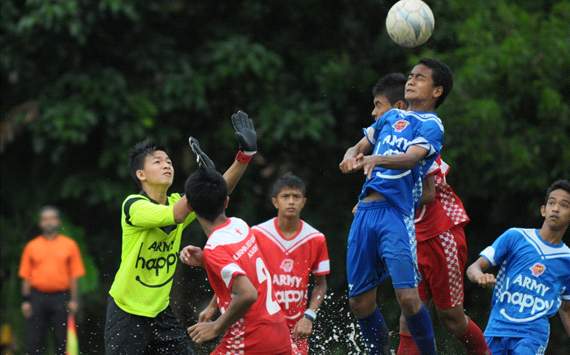 Kelantan's youth development programme is one of the most structured in Malaysia. Youth players begin at 12 years of age with the Al-Hamra Red Warriors Academy (ARMY), considered the foundation of grassroots development programmmes in the state. Regular trainings and practice matches are held at the seven major ARMY regional training camps located around Kelantan.
"I think that it's absolutely important for teams to start grooming players from a very young age," Kelantan Secretary General Haji Azman Ibrahim told
Goal.com Malaysia
in an exclusive interview. "That is what we have been doing here in Kelantan for the past few years. We've gone down to the low levels of small kids and tried identifying talents in that age group.
"I'm not sure what the other states are doing and we can't compare. All I can say is that Kelantan pays a lot of attention to youth development because that is essentially the way forward.
"Our boys come from primary schools, secondary schools and we integrate them into our President Cup squad as well. So it's pretty systematic here, but there is always room for improvement."
| | | |
| --- | --- | --- |
| | | |
| Badhri Radzi | Obinna Nwaneri | Norfarhan Muhammad |
| Radzi is far the most influential player for the Red Warriors. 'Piya', known as a technically gifted playmaker, is also highly rated for his ability to pick out a killer pass. He was the driving force of Kelantan's treble-winning season in 2012, and as captain will continue to lead the team by example. | The Nigerian is rock solid at the back, which contributed to the side's impressive defensive record in 2012. Kelantan were very hard to beat at the back and it was largely because of Obinna. A former international, Obinna uses his height to protect the goal and works hard to deny the opposition space in the final third. | The former T-Team man complements Badri's qualities seamlessly and drives the team forward with his runs in the middle of the pitch. He also has an impeccable eye for the goal and one can always count on him to create vital goal-scoring opportunities. |
TAN SRI ANNUAR MUSA - CLUB PRESIDENT

If there was ever a man to be credited for Kelantan's renaissance in Malaysian football, it would have to be Tan Sri Annuar Musa. He took helm when they were still in the second division, brought them up to the Super League, and has transformed them into a major powerhouse. He's contributed not only to how Kelantan plays the game, but also with the connections and collaborations he has initiated with sponsors and foreign clubs.
BOJAN HODAK - HEAD COACH

While few would have expected that Hodak had the necessary ingredient to bring success to Kelantan, one can't deny that the Croatian's tactics have been astoundingly successful. He impressed with his tactically astute decisions throughout their treble winning 2012 season, and has a knack for picking the right squad for each match. He may be one of the best managers plying his trade in Malaysia.
While Kelantan have arguably gotten off to a slow start, few are counting them out quite yet.
"I don't think it's fair to say that the team is out of form," Haji Azman Ibrahim told
Goal
. "I think it's a matter of settling down after a successful 2012. We won the treble and some players might be too comfortable and complacent with that fact but its normal. It's also safe to say that our treble winning season increased the expectation of others towards our team, which places pressure on our players as well.
"But I'm sure our boys will bounce back and prove their worth. The Super League is now an equal battlefield as every side is capable of winning the league. The competition is tougher and we will have to work hard to win games, which I think we will somehow."
Kelantan may be struggling for form early in 2013, but in their case it's clear that while form is temporary, class is permanent. To say that the Red Warriors are a complete package would be an overstatement, but they are constantly evolving as a club. Development programs are in place to ensure that Kelantan do not fall back on their vision and mission, and there are already plans for a new stadium to accommodate the ever-growing number of fans.
Through Tan Sri Annuar Musa's effort, the club is strong in the marketing department as well. Hotlink are their major sponsors this year, a list that also includes international companies such as RedBull.
Stadium
OVERALL
Facilities
3.5

Youth System
Club Affiliation
Key Players
Management