There were a few notable occurrences in Malaysian football as 2012 came to an end. Malaysia's own Nazmi Faiz left his homeland to look for greener pastures in Portugal, Malaysia hosted and crashed out of the Suzuki Cup, and Johor FC went on what seemed to be a small scale PSG-esque transfer period.
Johor FC is now called Darul Takzim FC, which was in line with the big changes at the southern club. The side brought in a number of important additions to the side, including Harimau Malaya talisman Safee Sali on loan, Safiq Rahim from Selangor, Norshahrul Idlan Talaha from Kelantan and the two players who made the main headlines: Simone Del Nero and Dani Guiza.
However, is it truly a good step for Malaysian football? To have two foreign players come in to have an easier and better retirement, when there are plenty of young Malaysian hopeful footballers who should be given more chances. Is the influx of expensive players to one team going to improve football locally, or is it a hindrance?
It has become a trend in the smaller leagues to bring in past stars to increase the popularity of the sport and the quality of the league as well. It started with the likes of David Beckham and Thierry Henry going to the United States, players like Alessandro Nesta and Alessandro Del Piero also left the big leagues for the States and for Australia respectively.
While Del Nero has never been a player like those named above, Dani Guiza can be argued to be a talented player. He did win the Pichichi back in 2008, and that's no small feat. Who's won that trophy in the past 10 years? Lionel Messi, Cristiano Ronaldo, Diego Forlan, Ruud Van Nistelrooy, Ronaldo and Roy Makaay. Not bad company, not at all.
The United States owe a lot to Beckham and Henry who've increased the popularity of football, or as they call it over there soccer, and Del Piero has increased sales tremendously in Australia, Malaysia isn't a country which lacks a footballing passion. Football is nowhere near the primary sport in the US, or Australia, but in Malaysia most kids are imbedded with a footballing culture, people of all ages will stay up until 5am whether at their home or at the mamak to watch their favourite team play in their favourite sport.
The footballing culture in Malaysia is the end result that football associations in America are hoping to achieve by bringing in big name players, but Malaysia already has that. This decade, and especially the past 5 years, has been huge for Malaysian football. One of the strongest and youngest sides Malaysia has ever had, they have been relatively competitive.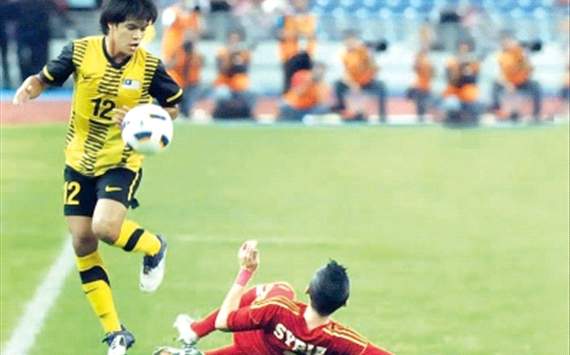 Players like Nazmi Faiz, Wan Zack, Mahali Jasuli, Khairul Fahmi and Fakri Saarani are all very promising young Malaysian talents, which is what the MSL needs more of. In order to improve the league, the Malaysian FA should look to improve and increase training facilities and football schools like the Bukit Jalil Sports School.
Darul Takzim played, and lost their first competitive game against Pahang, and while they are still likely to dominate the league and end their 12 year drought for silverware, they aren't helping Malaysian football. Having players like Del Nero and Guiza let themselves go and receive Malaysian pay cheques, when there are young and eager players, isn't positive for Malaysian youth.
There is a comprehensive difference between the impact of players like Henry and Beckham, who will fill stadiums and will sell merchandise. Most players who travel to the US are there to improve football and its image, can the same be said of players like Guiza and Del Nero?
Henry and Beckham are players who kids can idolize, and they have set up numerous football schools in the States; they're not simply poster boys but Ambassadors of football. Guiza will not single-handedly fill stadiums, nor will he sell jerseys (not authentic ones anyways, Malaysia Boleh!) and he most definitely will not help the Malaysian footballing youth set-up.
While it is harsh, it is the reality of their arrival to Malaysia. Their arrival is an improvement to Darul Takzim FC, and improvement to the lifestyles and retirement for Del Nero and Guiza, but is detrimental to the development of Malaysian football and Malaysian youth.
I do hope I am wrong, and that the quality of football in Malaysia continues its strong improvement; however I do not see a monopolized league as a positive contribution to football. If Darul Takzim sets the trend, and more foreign soon-to-be retired players join the MSL, there won't be room for Malaysian football to grow. The focus should be on growing the youth, only then will Malaysian football truly explode onto the scene.
There is nothing more exciting than the prospect of seeing a Malaysian player reach the big leagues, or a Malaysian national side competing against the likes of Japan and South Korea. This will only happen if you improve from within the country, and play home-grown players. Giants like Spain, Italy and Germany have had regularly strong national sides because their top clubs consist mostly of players who are from their country. A team like England, which has one of the best leagues in the World, struggles because of the massive amount of imported players and the lack of home-grown players in the top sides.
The expectation of Johor will also prove to be a hindrance for the players and the organization. If you expect Del Nero and Guiza, as well as the star-studded southern side to change football in Malaysia, you're in for a rough ride. It is not the Southern Tigers' fault, as it is in their best interests to improve their squad in order to win, but I believe that importing foreign players is detrimental to Malaysian football.
It's going to be a long season, and a long way ahead for Malaysian football. However, as Malaysians we all want an improved league, and that's our hope, and to that hope we will hold on.