COMMENT
By Ewan Roberts at White Hart Lane
The well of superlatives is quickly running dry where
Gareth Bale
is concerned. The
Tottenham
attacker, as he has a habit of doing, stole the headlines once again on Thursday night with two mesmeric, laws of physics defying free kicks.
Against a Lyon side who have regularly competed in the Champions League and currently sit in second place in Ligue 1, there was an inescapable sense that Bale was a class above both the French opposition and the Europa League.
BALEISTIC!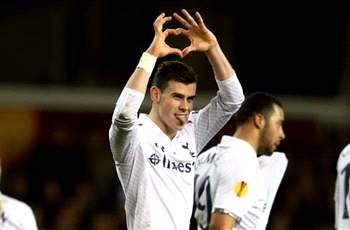 PLAYER RATING VS LYON






It didn't look like his day initially, struggling to find space and missing an open goal. But the Welshman's class shone through with two stunning, dipping free kicks. Yet again, it was 'the Gareth Bale' show at White Hart Lane.
FROM OUR LIVE! COMMENTARY


GOAL!!! 2-1! Bale with another thunderous free kick! This time it's from closer than his first-half strike but his technique is still the same and so is the result with the ball flying past a bamboozled Vercoutre! There cannot be too many better players than him around at the moment!
The Welsh international appears capable of turning his brilliance on with the flick of switch, capable of winning matches at will. And he did so once again against
Les Gones
, underlining his status as a world-class talent – a talent that, with or without Tottenham, deserves to be showcased on the biggest stages, in the biggest arenas, not on Thursday nights on Channel 5.
The match itself was a fraught affair. Neither team managed to consistently string together meaningful attacks, with a scrappy midfield battle taking precedence over aesthetically pleasing interplay.
The tempo was almost catatonic, more reminiscent of a friendly match in late July – save for the chilly, wintry weather. Tackles did not fly, the pace was not frantic and the crowd – risking the scorn of their partners to attend the Valentine's Day match – had little to cheer about.
Until, that is, Bale sent a vicious, dipping free kick towards goal just before the half-time whistle that buried itself in the bottom corner. White Hart Lane, naturally, erupted and Bale's heart celebration seemed entirely fitting for the occasion.
That would be the first of three incredible strikes to grace the north London pitch, with Samuel Umtiti's wonderful half-volley sandwiched between another stoppage time set-piece from Bale.
This one hung in the air even longer than his first strike, dipping and dying in the air at a phenomenal rate before creeping under the bar to give Tottenham a 2-1 lead going into the second leg at the Stade de Gerland. It was the sort of movement you expect from the light, plastic balls that are awarded as prizes at school fair coconut shys, not one made of leather.
"He's incredible," manager Andre Villas-Boas eulogised after the match. "Not only his all-round game but this ability that he has to strike free kicks. The ball gains so much power when he strikes it and it changes direction very easily."
The Welshman has now scored four free kicks this year. Cristiano Ronaldo – the player Bale, and specifically his free kick technique, is so often compared to – has scored just one (against Atletico Madrid at the start of December).
In fact, Bale has scored as many times in the last two games with Ronaldo's technique as the Portuguese himself has in the past season-and-a-half (or 60 La Liga games). The winking wonder may have created the technique, and patented the statuesque pose and puff that precedes the striking of the ball, but Bale has perfected and mastered it.
Comparisons with the Real Madrid star are inevitable, though it is unfair to compare the still developing Bale to the fully established Ronaldo of today. The Welshman – who has only recently started playing in as advanced positions as the Portuguese – has played just 135 top-flight league matches, scoring 34 times. After 135 top-flight league games for Sporting Lisbon and Manchester United, Ronaldo had scored just 26 times.
Bale's brilliance was totally at odds with the game as whole, and his own performance in truth. The 23-year-old initially struggled in his starting position just behind Emmanuel Adebayor, devoid of supply from the ever-so-slightly conservative midfield pairing of Scott Parker and Mousa Dembele and outnumbered by Lyon's three-man midfield.
It did not take long for Bale to return to the left flank, with Clint Dempsey moving infield, though the Welshman still had little joy, which was typified by his startling open goal miss. The jibes were already rearing their head, "Ronaldo wouldn't have missed that!" and "I guess he's not the best player in the world after all," said the cynics.
But, just as the sign of a good team is winning ugly, the mark of a great player is deciding a match even when they are not playing well. Which is exactly what Bale did. The former Southampton starlet has become a decisive player, a scorer not just of great goals but match-winning ones too.
No player other than Bale has scored for Tottenham in their last four matches, with every one of his strikes carrying meaning, weight and points (one against Norwich, three against West Brom and Newcastle).
There is a certain bittersweetness attached to the Welshman's performance(s) though, as with every devilish free kick or lung-busting run comes the looming inevitability of his departure – a player of Bale's considerable talent befits a bigger stage than the Europa League.
Without Champions League football, Spurs cannot hope to retain Bale's services. Increasingly, though, there is a sense that Bale is playing so well that even finishing fourth will not keep him at White Hart Lane. As Bale singlehandedly drags Tottenham towards the top four, drawing plaudits from across the globe, the club's chances of keeping him diminish exponentially.
Follow Ewan Roberts on