In a country where even the local fans tend to be ignorant towards the local Malaysian team, Jordi Perez epitomizes the true spirit of football. He hails from a city that arguably produces the most exquisite football in our world right now, but Jordi is a person who appreciates the game for more than what it actually means.

The Catalonia-born Jordi has been a Barcelona fan over the years, consistently watching them in the Nou Camp. But his immaculate passion for the sport often drove him to explore different borders of the world. He would go to the United Kingdom to watch Manchester City play and he would go to Germany to watch Bayern Munich play. However, none of them captivated him as much as Kelantan did. It was destined to be love at first sight.

"I spent most of my life living in Catalunya with my family but I have always loved travelling and discovering new cultures," he enthused in an exclusive interview with Goal.com Malaysia.

It might be baffling to many as to how Jordi got to know Kelantan and why specifically fall in love with them. After all, they are just another team in the Malaysian league. But Jordi doesn't see it that way. According to him, there is more to his love for Kelantan than actually meets the eye.

"I knew a few friends from Kota Bharu through the internet since 2009. They were telling me a lot about The Red Warriors, especially after their defeat to Negeri Sembilan in the Malaysia Cup final. That was how I got connected.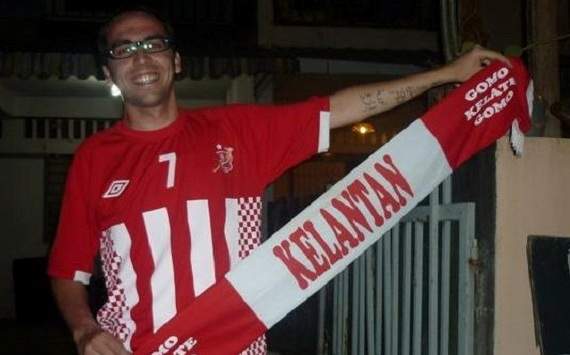 Having lived in Catalonia almost most of his life, the presence of their own identity and culture was imminent. While they are essentially under Spain now, Jordi and many other Catalonians practice different cultures from the Spaniards and speak a different language as well. Similarly, Kelantan is a state that is incredibly rich in heritage, culture and history.

Geographically, the conservative Muslim state is separated from the rest of the peninsular by the Titiwangsa Mountains. But culturally, Kelantan has a distinctive line between itself and the other state. The local people speak a very unique Malay dialect and variety of food itself justifies the culturally vibrant land.

"I grew up in Catalunya, which was a free kingdom until the Spaniards invaded us in a war that happened 300 years ago. We the Catalans don't feel Spanish. We have our own traditions, culture and language.

"Once I knew more people from Kelantan, I realised that there were lots of similarities with Catalunya. It's a special land and the people are very proud of this place. I could relate to them as I feel exactly the same about mine.
Once he had fallen in love with The Red Warriors, turning back was never an option. Jordi was determined to visit his adopted land and when he finally did it in 2011, he was enthralled. Unfortunately, he didn't have much time to catch his team in action, but Jordi made it a point to come back to following year and watch Kelantan play for the first time ever.

"I came in 2011 for the first time but I could not watch any Kelantan match. However I was already impressed with the place itself. It was unique.

"A year later, I returned to Kelantan. This time around, I made sure that I wasn't going to leave without watching a game. So I finally got to watch the The Red Warriors in action for the first time, as they beat Kuala Lumpur 3-0 in a Super League match.

Upon his return to Catalunya, Jordi consistently followed Kelantan's progress via the internet as well as his friends in Kota Bharu itself. The Red Warriors were doing pretty well in the AFC Cup and when they were paired up against Iraqi side Arbil FC in the quarter finals, Jordi decided to make the trip over to the Middle East.
However he wasn't just satisfied yet. Jordi wanted to experience more of the Red Warriors and Kelantan, which led to his decision of moving to Kota Bharu for one whole year. He left everything behind in Catalunya for one year, making the move to Malaysia around two months back. Thus far, Jordi has nothing but praises for the country and specifically the Kelantan state.

"It's been great, I meet a lot of nice people and everybody is always willing to help me. I'm more than delighted and I'm very grateful to all them. I'm trying to understand and get involved in Kelantan's culture; I hope I will achieve it.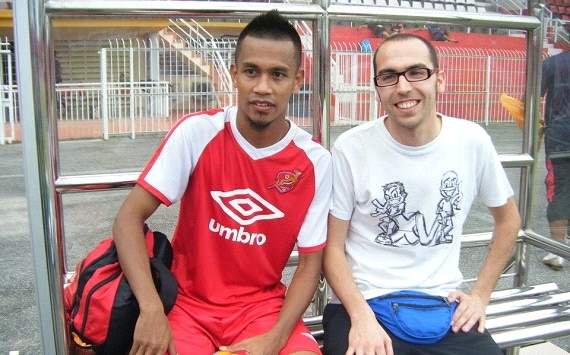 "I arrived less than 2 months ago, but I could see the amount of people lining up to buy match tickets for a friendly match, I saw The Red Warriors Cafe overflowing with people for an hour act, Kelantan Trade Center full of people for the jersey presentation. That shows how involved the people are here with the club."

The passion Jordi is showing for football and Kelantan is certainly something worth admiring. It shows that international football and local football can mutually co-exist, without sparking debates about the quality and class. He will based in Kelantan for the entire year and is in fact looking for a temporary job to support himself over here.
We asked Jordi one ultimate question; "Do you see any similarities between Barcelona and Kelantan?" His answer is more than a fitting end to this piece on an extraordinary journey.

"In a nutshell, Spain would be Malaysia, Catalunya would be Kelantan, Barcelona would be Kota Bharu, and FC Barcelona would be Kelantan FA.

"FC Barcelona is not only a sports club; it represents Catalonia around the world, showing a way of life, because there is a whole country behind it. Similarly, I hope that KAFA will be able project Kelantan and its people to the rest of the world via football.