COMMENT
By Kris Voakes | Italian Football Writer
San Siro is often described as the perfect place to go for your first ever taste of
calcio
. The majestic stadium, awe-inspiring as it is, remains only part of the attraction, with the fans of AC Milan and Inter helping to make it an atmosphere to remember.
But these days, there is something of a hollow feeling about the place. There are no moped horns tooting triumphantly as you head to the Metro after the match. Gone is the eager anticipation to find out the results of the other Serie A games in order to plot the title bid ahead. There is even a lack of queues at the city's banks this morning as tickets go on general sale for the forthcoming derby. It's all because, right now, Milanese football is in crisis.

While over in Turin, Juventus blaze a trail with their exciting brand of winning football and begin to turn heads across the continent in the Champions League, the two champion sides of the seasons immediately before the Bianconeri's 2012 success are trailing well behind the early leaders thanks to some dreadful form so far. Put simply, there is very little reason for optimism at either club.
Juve's 2-0 victory over Chievo with a team showing five changes from that which dominated against Chelsea in midweek served only to remind the Milanese pair of just how much they have to do to get back to the top, but by 5pm on Sunday they both looked as far away from Antonio Conte's side as they have in a long, long time.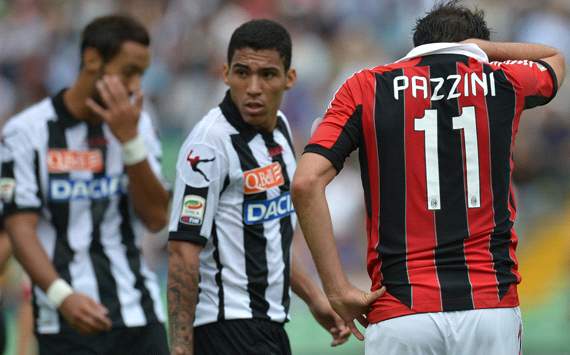 Misery | Things continue to get worse for Giampaolo Pazzini and Milan
Milan's well-documented problems seem only to increase, with a third defeat in four being added to a couple of unwelcome suspensions for Cristian Zapata and Kevin-Prince Boateng after both were sent off at Udinese. The red cards were just the start of the signs of indiscipline within the group, as an inability to pull together sufficiently helped the Rossoneri to turn in another under-par performance.
At a time when they needed to put on a brave face to the world in light of the mounting pressure on coach Massimiliano Allegri, they turned in the footballing equivalent of pointing and laughing at somebody in trouble. If the coach has the faith of the players, they have a funny way of showing it. Stephan El Shaarawy's belting equaliser momentarily raised hopes, but they proved to be as false as the smiles at Friday's hastily-arranged interview involving Allegri and Filippo Inzaghi.
The Diavolo's result was almost forgotten by some though, as Inter also continued their underwhelming start to the season with a 2-0 defeat at home to Siena which stretches the run of home team failures at San Siro to nine games since the new part-synthetic turf was laid in the summer.
While there is talk of a hoodoo dubbed 'San Zero', the Nerazzurri's loss was borne not out of a couple of bad bounces on a meddlesome surface, but rather of the sheer inability to fashion clear opportunities against Serie A's bottom club. Part of that came down to another lop-sided performance, with Inter's over-reliance on the left side of their formation allowing the Robur to concentrate much of their efforts on stopping Antonio Cassano, Wesley Sneijder et al down one flank. But even when play was spread further afield, the home side simply had nothing to throw at their visitors.
SAN ZERO
The curse of the turf at the Meazza


Inter 0-2 HAJDUK SPLIT (Europa)
Milan 2-3 JUVENTUS (Berlusconi)
Inter 2-2 Vaslui (Europa)
Milan 0-1 SAMPDORIA
Inter 1-3 ROMA
Milan 0-1 ATALANTA
Milan 0-0 ANDERLECHT
Inter 2-2 Rubin Kazan (Europa)
Inter 0-2 SIENA

Aug 9
Aug 19
Aug 23
Aug 26
Sep 2
Sep 15
Sep 18
Sep 20
Sep 23

Fredy Guarin turned in another performance devoid of real direction on the right side of the midfield three, too. The Colombian arrived at Appiano Gentile in January to much pomp and circumstance, but he has yet to add anything of significance since overcoming the injury which stopped him making his debut for the club for two months. Yesterday was another typical Guarin display in the black and blue shirt, with no sign of composure, positional awareness, nor decent decision-making skills.
Too often he played bad passes which were easily intercepted when there were better options available, while he showed a poor brain for knowing how to make the right challenge at the right time. Those issues combined continue to make him look as though he is aimlessly running around in circles for stretches of the game.
Meanwhile, Cassano and Walter Gargano's teething problems continue. 'Fantantonio' looks a long way short of fitness still, bringing him to make decisions in the final third that he might not make in normal circumstances. On the other hand, Gargano's troubles could be a little more deep-rooted.
Having gone from a club which played with lots of width and supplied willing runners ahead of him in the centre, he has now been asked to play in a side lacking anything near the same energy, meaning his play can look laboured at times. There can be nothing more frustrating for fans than to see the opposition sitting deep and inviting an attack, only for one of your central midfielders dropping 20 yards to pick the ball up from a centre-back and then playing a simple pass to a static team-mate that the defender could have made. It is not Gargano's fault that he finds himself in this position, but he must now help Andrea Stramaccioni to find a solution to the problem.
Stramaccioni is not without things to fix. His side is already six points behind a Juve side they looked reasonably placed to challenge little over three weeks ago, and it would appear that getting the Nerazzurri back on their feet and securing Champions League football is about the extent of what he can achieve this season. Even that, though, will take a much greater gameplan than that which is currently in place.
Laughable though it may seem that two years be described as the 'long haul', that is what the young coach was brought in for, and so he should be given that leeway. But current performances on either side of the Milan divide suggest that Juve could win the next couple of titles at an absolute canter if the pair of once-proud giants don't get their acts together.
ELSEWHERE…
The farcical set of circumstances which led to the postponement of Cagliari's clash against Roma on Sunday must never be repeated. The FIGC were well within their rights to force the Isolani to play behind closed doors once more - as they did against Atalanta - after the failure to secure a safety certificate in time for the fixture, so for president Massimo Cellino to openly invite fans to attend the game was downright preposterous. No game should ever go ahead without the correct safety clearance, and recent revelations over the 1989 Hillsborough disaster in England - which have shown that the ground was not fit to host such a big crowd - seem to have been very quickly forgotten by supposedly responsible people within football.
Lazio hammered Genoa as they have hammered no other team in some time at the Stadio Olimpico in Sunday's posticipo, yet Marco Borriello's goal against the run of play 12 minutes from time was enough for Luigi De Canio's men to take all three points. The Aquile couldn't find the net even once from 22 shots at goal, with Libor Kozak and Mauro Zarate unable to lead Vladimir Petkovic's men to a new club record winning run to start the campaign. Juventus may have ably backed up their first team on Saturday night, but Lazio seem a different proposition in front of goal when Miroslav Klose does not start.
Napoli were another side to lose their 100 per cent record as Rolando Maran's Catania side held on for over 88 minutes with 10 men after Pablo Alvarez was sent off before the fans had got comfortable at the Massimino. Not even 63 per cent of possession was enough for Walter Mazzarri's men to break down their stubborn hosts as the Elefanti once again proved their innate ability to make a trip to eastern Sicily one of the tougher propositions of the Serie A season.
Stevan Jovetic was given his first black mark of the season on Saturday as his penalty miss came back to bite Fiorentina. Jaime Valdes had already failed from the spot for Parma before the Montenegrin stepped up in the 88th minute at the Tardini, but he too was made to pay for a weak effort. But it got worse for Jovetic, as veteran Luca Toni gave away another spot-kick in injury time, allowing Valdes to make up for his earlier error and deny the Viola three points that they would surely have taken back to Tuscany had they gone two up five minutes earlier.
Follow Kris Voakes on