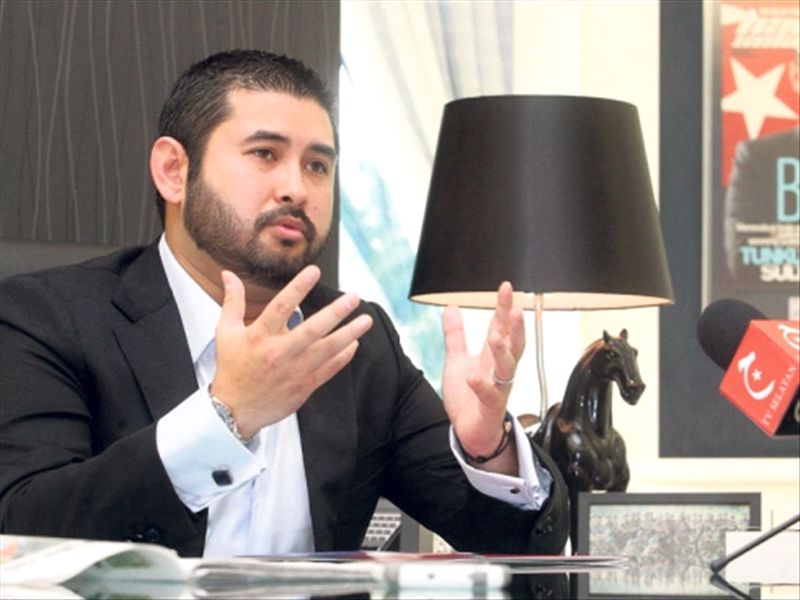 ---
BY NIK AFIQ Follow on Twitter
---
The owner of Johor Darul Ta'zim FC (JDT), Tunku Ismail Sultan Ibrahim has reiterated that he doesn't need to be the president of the Football Association of Malaysia (FAM) in order to help Malaysian football.
Speaking in a special interview that also featured Malaysian hip-hop artist, Joe Flizzow, Tunku Ismail stated that he doesn't want to let go of JDT, but will always continue to help Malaysian football by sharing his opinions and views.
In the interview that was published on JDT's official Facebook page, Tunku Ismail, who is also known by fans as TMJ said: "Honestly, I don't need to be the president in order for me to help Malaysian football. The most important people that can help our football is the executive committee (exco) members of FAM."
"States and clubs must play a much more important role, as FAM are just the custodian of the league. For me, I can always share my visions, knowledge and my contacts to help our football."
"I also don't want to let go of JDT. My work with JDT only 30% complete, not even 50%. There are still a lot more that I have to do here at JDT."
"If you want me to give my contribution in terms of ideas and my voice for the betterment of local football, I can do that, but to be the president, there will be conflict of interest between FAM and JDT and it won't be fair."
"That is why I don't want to be the president. But I will still help, it doesn't matter whether in terms of finance, or suggestions, ideas and use of my contacts to find the right people to be in FAM."
TMJ is currently in Spain, to attend a La Liga gala dinner and to present a keynote speech at the World Football Summit 2016, and he is also there to discuss new agreements on collaboration between JDT and Spanish giants, Valencia CF.
Talking about his speech, TMJ stated that he will talk about how JDT has evolved and achieved instant success in football, and also about his long term project for the club.
"They want to know how I successfully brought JDT to this level, not just on the pitch but outside the field as well. They want to know in terms of our facilities, social media, our collaboration with big clubs, our marketing, financial strength and all our instant success."
"They also want to know how, as a football club, can give back to society in terms of education and youth project, to create better human beings in the future."
In terms of their collaboration with Valencia, TMJ said it can only bring positive things to the club, and his relationship with Valencia owner, Peter Lim has also led him to know the big boys in the football world, such as ex-Barcelona president, Joan Laporte and Jorge Mendez, the agent for top footballers such as Cristiano Ronaldo and Angel Di Maria.
"Of all the clubs I have evaluated, I can see that Valencia are the most suitable club for us to continue collaborating with, in order to continue our development of grassroots football."
"We have an agreement with them, we don't need to spend much money to send our footballers or coaches to Spain to attend courses, and we have a very good understanding between both sides."
"My relationship with Peter Lim plays a key role in the JDT-Valencia collaboration. Through him, I also got to know the big boys in football, such as Joan Laporta and Jorge Mendez."
Joan Laporta was recently inducted as JDT's Life-long Honorary Member and TMJ said, more big names will come and take part in JDT's project in the future.
"Knowing these big names in football can only help me develop JDT. They also acknowledge our project here and they highly-recognise the club because they believe it will be fruitful in the future."
"There will be more big names involved with us at JDT, hopefully ex-players such as Ryan Giggs and Gary Neville will join as well."
"They acknowledge our philosophy and vision and I think they are interested to be a part of this project because in South East Asia, this is something very new."
Other that that, TMJ also is in Spain to find young players for the club, as he looks to build the team based on valuable young players from all over the world.
TMJ also sendt out a message to JDT supporters, stating that the Southern Tigers are still a small club, and there is still a lot of work needed to be done.
"We must always unite and always support our club. We are not as big as Selangor, Pahang, Kedah, Perak or Kelantan. We are still young and small but we have big visions."
"There is a long way to go. I am also young if we were to compare with other presidents, but I am very passionate but like I said, my work here is not done yet."
"Always understand that in football, there is always ups and downs but for me, winning trophies are not important."
"My goal is to create history, whether on the field or outside the field, and to do the right things and I'm more interested in making sure that the world knows us."
"It's useless if you win a lot of trophies, but the world doesn't even know who you are," added TMJ.