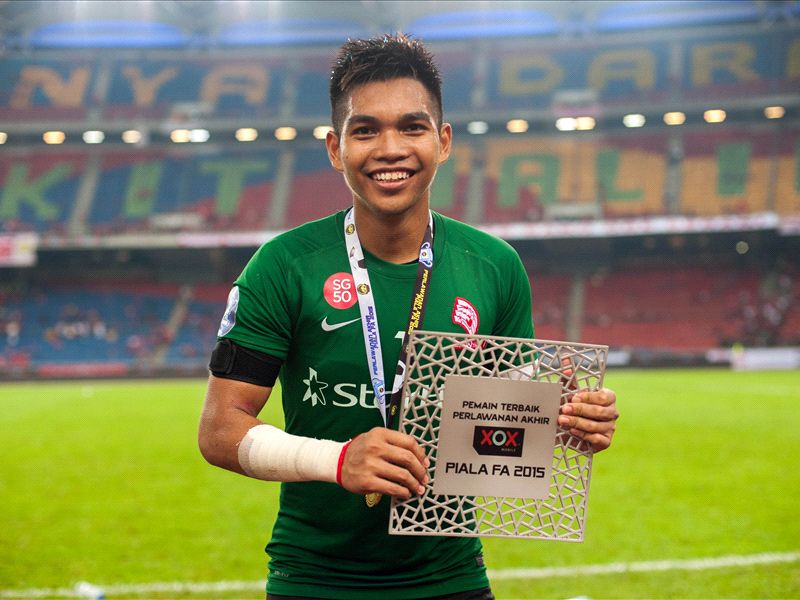 ---

BY OOI KIN FAI

Follow on Twitter
---
Captain and goalkeeper, Izwan proudly held aloft the 2015 FA Cup after playing an integral part in helping Lions XII to win it. The 24-year-old custodian displayed tremendous anticipation as Kelantan peppered his goals throughout the match but he stood firm to deny
The Red Warriors
.
A sign of a real leader, Izwan reckoned that it wasn't him alone that won them the cup but more of a team effort.
"We made it. Like the coach said, we don't have a star in the team. Everybody has a role to play and it's all about the teamwork. It's not about me, it's about the team. You can see without Nazrul (Nazari) shielding the ball in the first half, they would have been 1-1 earlier.
When asked what his thoughts or feelings were when his penalty box and goal was bombarded with shots after shots, Izwan was singular in no letting anything else disturb his concentration.
"I try not to think too much. I just want to stop the shots from entering my goal. As a group the defence helped me out a lot."
Izwan went even further with his complimentary remarks to the rest of the team and even extended it to the people behind the scenes.
"Want to thank the back groom staff. They worked very hard these past 2 weeks. Still can't believe that we won."
A fantastic performance from a humble individual.