Kelantan FA (KAFA) president Tan Sri Annuar Musa on Sunday night announced on his official facebook page that KAFA and Fakri Saarani have reached an agreement for the Malaysian international to play for the Red Warriors when the Malaysian Super League (MSL) transfer window opens in April.
Annuar, on his facebook page stated that – "Negotiations between KAFA, Athletico SC and Fakri have been settled yesterday and the contract will come into effect in April."
"The return of Fakri Saarani, a Kelantan-born player, will strengthen our squad together with Dickson Nwakaeme and Dimitry Petratos to get back on track to race in the league title this season," Annuar added.
Fakri and Fadhli Shas have been linked with The Red Warriors recently but the club's management refused to comment on the matter as the deal has not yet been finalised.
The former Harimau Muda and Perlis player will return to Malaysia after the Portuguese League ends in March.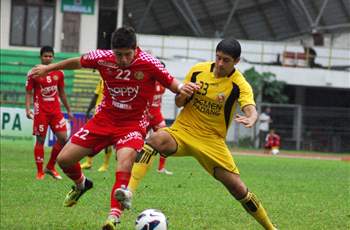 Annuar also revealed that former Sydney FC player Dimitri Petratos, who is currently training with Blackburn Rovers, will return to Kelantan in the coming week and join up with the club for their AFC Cup campaign next week.
The former Australian Under-23 player joined Kelantan in December 2012 but was not registered for the MSL campaign due to the rule allowing a maximum of only two foreign players per team in a match at any given time.
Head coach Bojan Hodak had opted for Nigerian defender Obinna Nwaneri and Guinean Striker Keita Mandjou ahead of Petratos and Croatian Lek Kcira.
Kelantan are in Group G in the AFC Cup alongside Ayeyawady United (Myanmar), SHB Da Nang (Vietnam) and will host Maziya Sports and Recreation Club from the Maldives in their opening game on March 6 at the Sultan Mohammad IV stadium in Kota Bharu.