---

BY DARREN GOON

Follow on Twitter
---
Harimau Malaya were eight minutes away from the trophy. Alas, it was not to be, despite the brightest of starts.
With just five minutes gone, Norshahrul Idlan Talaha received Azamuddin Akil's low ball into the box, and turned, but was felled by Suttinun Phuk-hom. Safiq Rahim stepped up to convert his fourth penalty of the tournament, and fifth goal overall, making him the 2014 AFF Suzuki Cup's top scorer.
Nonetheless, it was Mat Yo who caused Thailand's backline plenty of problems. As the focal point in attack, he was often the target of through-balls by Badhri Radzi, but often found them to be just out of his reach.
The new ATM striker had a goalscoring opportunity in the 40th minute, but his shot was blocked from close range. Then, in first half injury time he popped up on the right flank, driving a deep cross at the far post which was missed by Kawin Thamsatchanan, leaving Indra Putra Mahayuddin the simple task of heading into an empty net.
At half-time, it was two goals for Malaysia, and two assists for Norshahrul.
He would add to that tally just 11 minutes after the restart, being fouled just outside Thailand's D. Again, Safiq stepped up to take the set piece. And again, he scored. 3-0 to Malaysia, and Mat Yo had a hand in all three goals.
Emboldened, he started to attempt some trickery with the ball, taking on two Thai defenders in the 75th minute along the byline like the Norshahrul of old, before trying to set Safee Sali up with a cheeky backheel flick.
Thailand eventually scored via Charyl Chappuis, but Mat Yo never stopped working, laying the ball off to substitute Gary Steven Robbat for a shot that was flicked behind by Suttinun's head with five minutes to play. Even after Chanatip Songkrasin scored Thailand's second on the night (and fourth on aggregate, giving them an outright lead), there was more of the same from Norshahrul, stealing the ball of a defender to set up Safee for a tame shot from distance.
Yet, he was not done. With the last attack of the game, he cut inside from the left flank and curled a shot towards the far post that drew a fingertip save from Kawin. Although he did not manage to score, it was not from a lack of trying.
For his integral role in Malaysia's goals and continuous attempts to assist his teammates, Norshahrul Idlan Talaha earns Goal's Man of the Match award, despite the aggregate loss.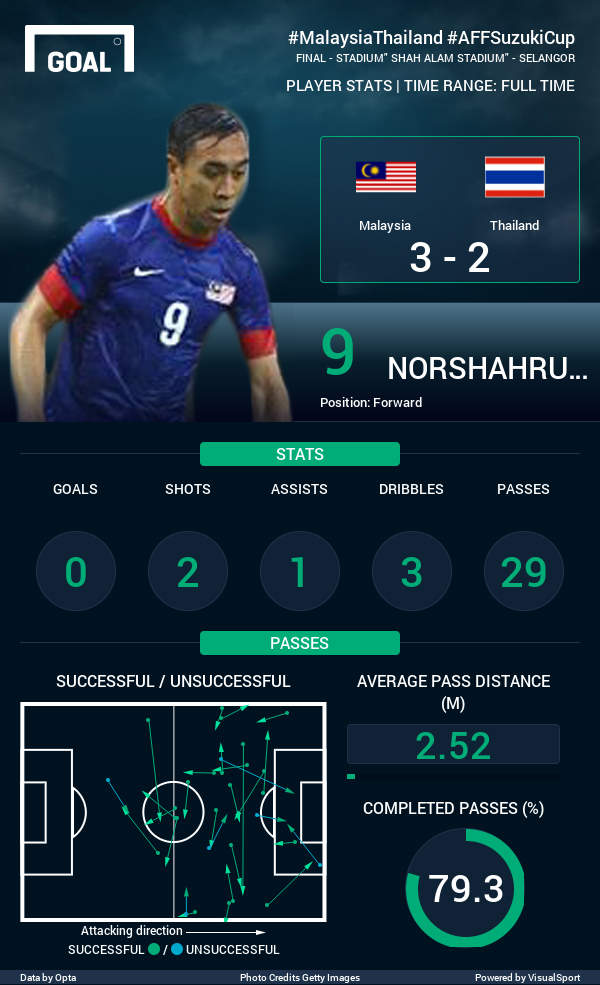 Take the Goal AFF Suzuki Cup challenge and be rewarded! Prove yourself against our region's best editors and WIN prizes including iPad mini, jerseys and more! Download the FootballHero App on iOS and Android and start predicting now!