QPR
boss
Harry Redknapp
has bemoaned the fitness issues which are currently preventing striker
Bobby Zamora
from completing 90 minutes.
The Englishman requires surgery on a long-standing hip injury but has put off going under the knife - and a subsequent predicted eight-month lay-off - in order to aid the Rs' battle against relegation.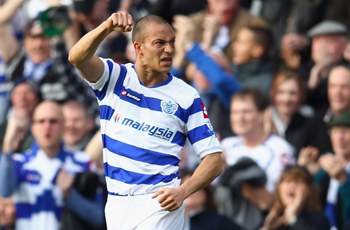 "He probably needs an operation but that will rule him out for eight months"
And Redknapp believes the west London club would be better placed to pull themselves out of the danger zone if the 32-year-old was at full fitness.
He told reporters: "He is so vital to a lot of things we do. When he plays he's different. He can move, hold the ball up, someone we can play up to.
"Without him we don't have someone who can lead the line. The problem with Bobby is he can only play half a match.
"If we start him, we have to stop him at half-time. If we played him straight through he could probably manage 70 minutes.
"But stopping at half-time he seizes up then he can't move. He can't walk now after today's game. He probably needs an operation but that will rule him out for eight months."
A 4-1 defeat to Swansea on Saturday left QPR seven points short of safety, and Redknapp acknowledged that keeping the Loftus Road outfit up may prove even more difficult than saving Portsmouth in 2006.
"We got 20 points from the last 10 games — and that is something we might need this time too," he added. "It's going to be hard but it's not impossible."
The 65-year-old went on to criticise the club's training facilities, with QPR set to embark on a warm-weather training camp in Dubai ahead of a meeting with Manchester United.
"Our training ground is not the best," he continued. "When it rains, it floods. When it snows we can't get on it.
"We have no undersoil heating and no gymnasium. So we can at least train properly for a few days."