Swansea
boss
Michael Laudrup
has expressed certainty that
Michu
will earn a
Spain
call-up after he was watched by national team boss
Vicente del Bosque
on Saturday afternoon.
The Madrid-born coach, who has previously promised to include the 26-year-old in his next squad, was in attendance as the Swans battled to a 0-0 draw against Everton at Goodison Park.
And, despite conceding that the prolific Spaniard could not show his best form as the Welsh outfit struggled on Merseyside, Laudrup expects Del Bosque to have seen enough so far this season.
"If Del Bosque had called me before I could have told him that this wasn't maybe the best game to see Michu but I know that over here we're watching the Spanish league and in Spain they are watching the Premier League," he told reporters.
"So Del Bosque knows exactly what Michu has done till now so I think it was just a visit here, I think he has made up his mind about Michu.
"We talk so often about Michu; he gets one chance and he scores. That's really class but, then again, he knew today had to be a day where he had to work and that's what he did."
The Dane went on to hail his side's flexibility as they eschewed their trademark passing football in order to share the spoils with a physical Toffees outfit.
"To come here and play Everton in such a difficult away game after playing in midweek against Chelsea and getting a point it's a great result and once more it was a great performance," he continued.
"Maybe [we got] the points in a different way than we are used to but sometimes you have to accept, especially in away games, that the opponent is not allowing you to play your game.
"For two games now – on Wednesday and today – we didn't have the ball as much as we're used to but still we performed so well.
"I think to come out of here and of Stamford Bridge with two clean sheets says a lot about the moment, about our team and about the team spirit we have – even changing some players, other players come in and perform well.
"When you play Everton you play [Nikica] Jelavic, [Marouane] Fellaini, [Victor] Anichebe, you know a lot of balls will come in. You need a good performance from your central defenders and they were outstanding today.
"[Everton] are so strong and you know just one or two second balls and they can create a chance. We played Chelsea on Wednesday, where everything is about combination on the ground and then three days later another very difficult away game.
"We come here, a completely different style against us and still we have to perform and I think it's not always easy but the players did it and as a manager I'm delighted to see a performance like that.
"Even though I always prefer that we play the ball around with 15 combinations and then create a chance but you have to be realistic with 55 games in a season, especially in some away games you have to accept that the opponent are very strong and you have to play in another way."
Everton boss David Moyes, meanwhile, lamented his side's inability to capitalise on their domination of possession.
"We're a bit frustrated but Swansea did a really good job in midweek on Chelsea and [this was] not dissimilar," he said.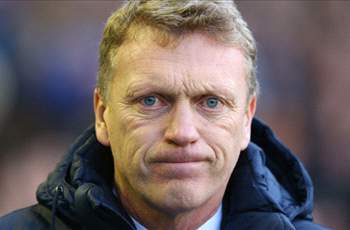 "We're just disappointed that we couldn't turn our opportunities into goals" - David Moyes

"We needed to play a bit better, pass it a bit quicker and be a little bit more clever in the final third but we didn't do that as well as we would have liked.
"We had three or four good opportunities but maybe just not perfect. I couldn't turn around and say anyone missed a real sitter. I thought we kept going, kept trying to do the right things.
"We could have done it better but I can't fault the players for their effort, I think they went right to the last minute to get the goal.
"[Too many draws] could quite easily cost us if we don't turn these into wins but we just couldn't get the ball over the line today, that was the big thing.
"I think apart from one Michu opportunity in the first half where he chips it and Tim [Howard] flicks it onto the bar, I didn't think we were threatened that much.
"But they have had a busy week and a hard week so it's a great point for them. We're just disappointed that we couldn't turn our opportunities into goals."
The Scot also revealed that he is unlikely to add to his squad in the January transfer window, despite admitting his frustrations at a lack of options from the bench.
"I think you probably saw what was coming on made us look a bit short. We've been like that all season and we've done really well," he continued.
"We could do with getting Kevin Mirallas back, I thought we needed another different type of forward today and we didn't have it.
"Even to get Darron Gibson or even Tony Hibbert [back]; we could have played Seamus Coleman further forward if we had needed to but we didn't have those sort of choices.
"The answer to the question is probably not, I wouldn't expect too much comings or goings."