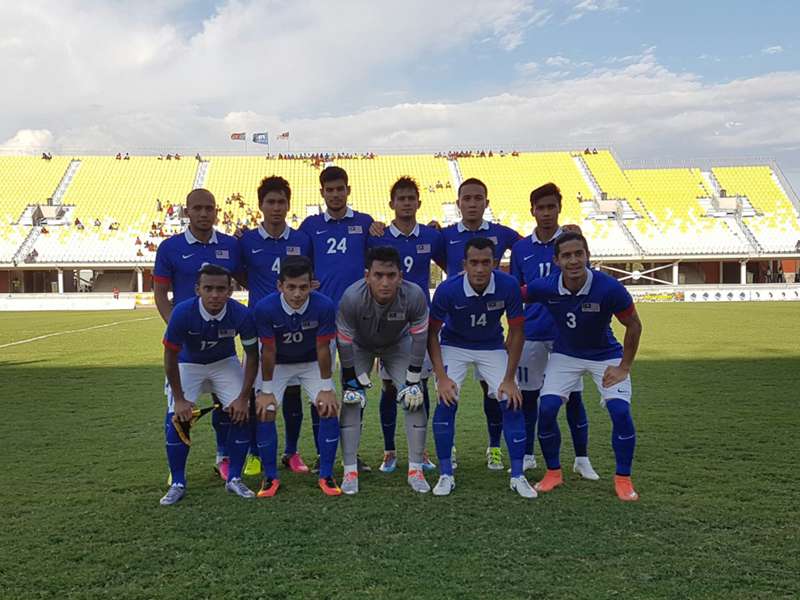 ---

BY ZULHILMI ZAINAL

Follow on Twitter
---
After all head coach Datuk Ong Kim Swee's talk of Malaysia's four straight cleansheets in Malaysia's previous matches, they were undone in the space of seven minutes through Tommy Semmy's brace, in their 2-0 defeat to Papua New Guinea at the Sir John Guise Stadium on Friday.
The opener of Malaysia's Oceania tour saw them take on the home team, who just last week finished runners up in the 2016 OFC Cup, after they lost to champions New Zealand on penalties.
Ong made several changes to the starting lineup, fielding reserve players Amri Yahyah, Fakri Saarani, Mahalli Jasuli and Abdul Latiff Suhaimi at the start, while Fadhli Shas started as centre back in place of acting captain Aidil Zafuan, and Farhan Abu Bakar started in between the sticks.
Despite the fact that the visitors dominated possession, the last ten minutes of the first half saw them conceding twice to the same player. 21-year old striker Tommy Semmy broke the deadlock in the 35th minute, before adding his and his side's second just seven minutes later.
Stunned by the two goals, Ong made five changes at the same time at the start of the second half, bringing on S. Kunanlan, Fazly Mazlan, Amirulhadi Zainal, Amirul Hisyam Awang Kechik and S. Chanthuru.
One hour into the match, an injury to Mahalli forced Ong to make Malaysia's final substitution by bringing on Christie Jayaseelan, a decision that would backfire just four minutes later. Centre back Shahrom Kalam had to be taken off for injury, which meant that the Malayan Tigers had to play with ten men for the rest of the match.
Although Jayaseelan got close to pulling one back for Malaysia in the 82nd minute when his try rattled the Papua goalpost, Malaysia failed to find the back of the net until the final whistle was blown.
Questions will now definitely be asked of Ong's decisions and the final result, despite the fact that he fielded second-stringers. After all, Malaysia are ranked much higher, in 173rd, as compared to the home team, currently 193rd.
After this, Malaysia will take on New Caledonia (ranking 183) on June 22, and Fiji (ranking 186) four days later. Whatever combinations and tactics that Ong wants to try in this tour, he must keep in mind that what matters most to the fans is not seeing his team lose to opponents that are ranked much lower than them.
PAPUA NEW GUINEA: Leslie Kalai (GK), Daniel Joe, Felix Komolong, Alwin Komolong, Koriak Upaiga, Emmanuel Simon, David Muta (C), Michael Foster, Nigel Dabinyaba, Tommy Semmy, Raymond Gunemba.
MALAYSIA: Farhan Abu Bakar; Azrif Nasrulhaq Badrul Hisham, Shahrom Abdul Kalam, Fadhli Shas, Khair Jefri Jones; Brendan Gan, Abdul Latiff Suhaimi; Ahmad Fakri Saarani, Baddrol Bakhtiar, Mahalli Jasuli; Amri Yahyah (C).