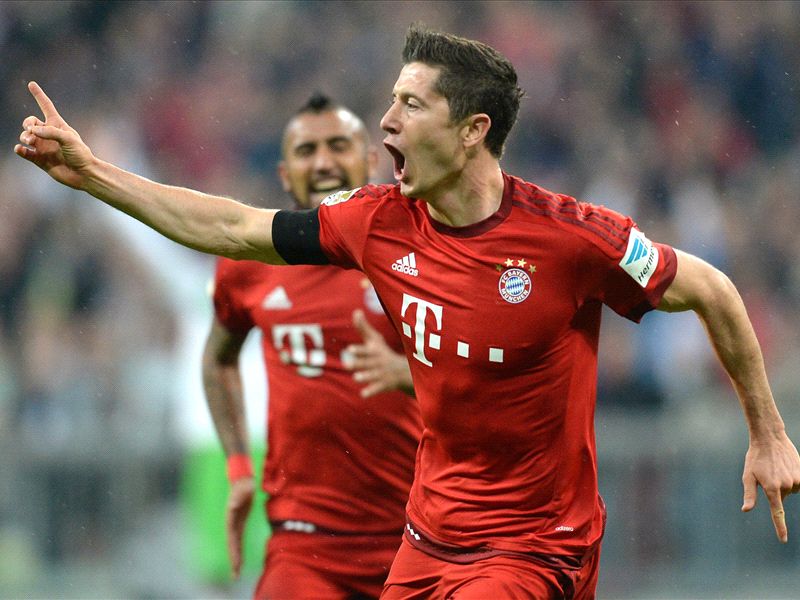 Bayern Munich were trailing 1-0 to Wolfsburg when Pep Guardiola summoned Robert Lewandowski to take to the field. Six minutes later, the Poland international scored. Nine minutes later, Bayern were winning 5-1 and Lewandowski had scored all five.
As the 27-year-old turned a crucial Bundesliga game on its head - Wolfsburg, let it not be forgotten, were Bayern's closest title rivals last season - social media went into meltdown at not only Lewandowski's feat in and of itself but the quality of the goals involved.
Goal
presents the best that the internet had to offer as 'Lewy' put in an unprecedented performance...
Yesterday: "I'm 100% fit." Today: 5 goals in 15 minutes. #LewanGOALski #FCBWOB pic.twitter.com/tK7xzcnLuf

— FC Bayern English (@FCBayernEN) September 22, 2015
60' Lewandowski. Again. 5-1. What is going on???? #FCBWOB

— VfL Wolfsburg EN (@VfLWolfsburg_EN) September 22, 2015
Lewandowski is the FOURTH Bayern player with 5 goals in a Bundesliga match and first since 25.02.1984 (Dieter Hoeness)

— MisterChip (English) (@MisterChiping) September 22, 2015
This is the first time since 1991 that a player has scored five goals in a Bundesliga game - Robert Lewandowski. #FCBWOB

— DW Sports (@dw_sports) September 22, 2015
Lewandowski in 9 mins tonight: 50:45 Goal 51:43 Goal 54:01 Hits Post 54:02 Shot saved 54:03 Goal 56:25 Goal 59:42 Goal

— David Wall (@1DavidWall) September 22, 2015
In the space of 9 minutes, Lewandowski scored more goals (5) than 34 of the 98 teams in Europe's top 5 leagues this season.

— Ben McAleer (@BenMcAleer1) September 22, 2015
1 - @FCBayernEN's Lewandowski (@lewy_official) is the only substitute to score 5 goals in 1 match in @Bundesliga_EN history. Worldclass.

— OptaFranz (@OptaFranz) September 22, 2015
Time to point out that a five-goal haul in German football is called a FÜNFERPACK

— Football Clichés (@FootballCliches) September 22, 2015
Just a reminder that before Robert Lewandowski's five goals in nine minutes, Wolfsburg hadn't conceded in nearly 8 hours.

— Archie Rhind-Tutt (@archiert1) September 22, 2015
ALL TIME RECORD - #LewanDIOSki is the FIRST substitute to score 5 goals in the history of the 4 big European leagues.

— MisterChip (English) (@MisterChiping) September 22, 2015
Robert Lewandowski's first 3 goals came in the span of 4 minutes, the fastest hat trick in Bundelsiga history

— Dale Johnson (@dalejohnsonESPN) September 22, 2015