World Cup
2018 FIFA World Cup: Huge demand for tickets from India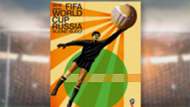 The FIFA World Cup is always a special event for a fan of the sport all over the world, with many making it their lives' mission to witness the footballing extravaganza. 
The upcoming edition of the showpiece tournament in Russia has sen unprecedented levels of interest surronding it, with the available tickets being sold like hot cakes on wintry morning. 
Surprisingly, a lot of Indian fans have also been planning to make the sojourn to Russia to be a part of the event, despite the national team not qualifying for the tournament. 
FIFA has already allocated around 159,402 tickets for the event, which is roughly 98% of the currently available inventory, and India is one of the top 10 countries from which the football governing body has received ticket applications from. 
Understandably, 51% of the applications have come from Russia - the host country. Fans from Argentina, Mexico, the USA, Brazil, Colombia, China, Australia, Germany and India make up the rest of the top 10. 
For those who are still planning to visit Russia and revel in the festivities of the World Cup, there is still a chance. FIFA will re-open the ticket sales on December 5th. It will be a random selection draw which will run till 31st January 2018. 
There will be another sales window between 13th March 2018 and 3rd April 2018, which will be done on a 'first-come-first-seved' basis. 
So, there is still a possibility for India to shoot up that list!