Klinsmann, Trapattoni and the national team managers who beat their home country
Last Updated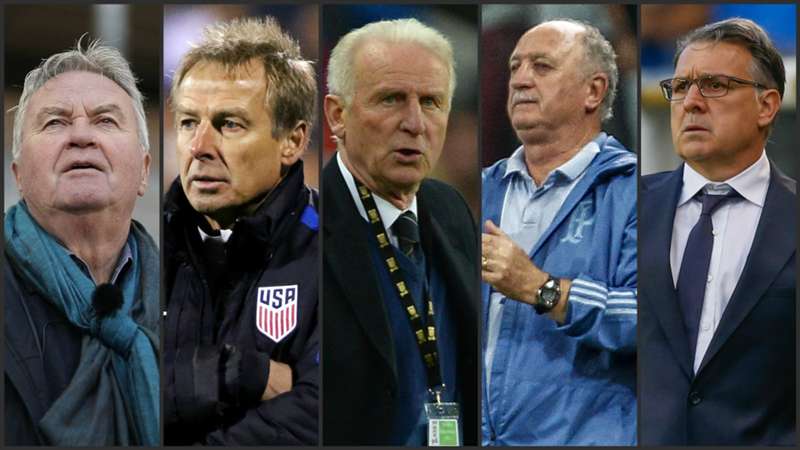 PS FR
Otto Gloria

Nationality: Brazilian
Defeated Brazil 3-1 with Portugal at the 1966 World Cup

Brazil were aiming for a third consecutive world crown when they travelled to England for the 1966 World Cup, but the Selecao failed to get out of the group stage when they were beaten by Portugal in the last game of the round.

Led by Brazilian coach Otto Gloria, Portugal overcame the likes of Pele and Jairzinho to knock the South Americans out and seal first place in Group 3. Gloria guided them to third place in the competition before leaving for Atletico Madrid.

Getty

Stefan Kovacs

Nationality: Romanian
Beat Romania 1-0 while in charge of France

Romanian Stefan Kovacs was in charge of France when he came up against his own country in a friendly match in 1974. In front of 22,000 spectators at Parc des Princes, Les Bleus won 1-0.

He left a year later and his next job was at the helm of Romania.

Getty

Jack Charlton

Nationality: English
Beat England with Republic of Ireland at Euro 88

One of Ireland's greatest achievements in a major international competition is their 1-0 victory over England at the 1988 European Championship.

Ray Houghton got the only goal of the game as a side led by 1966 World Cup winner Jack Charlton upset the Three Lions in Stuttgart.

Getty Images

Sergio Markarian

Nationality: Uruguayan
Won 1-0 three times with Paraguay in friendlies and 2002 World Cup

Markarian masterminded three 1-0 victories over his native Uruguay while in charge of Paraguay – all within an 18-month period between November 1999 and March 2001.

He almost recorded the same feat over a decade later while in charge of Peru, claiming two victories and a draw against his home nation.

API

Bruno Metsu

Nationality: French
Beat Les Bleus with Senegal at the 2002 World Cup

Senegal shocked the world when they beat reigning champions France 1-0 in the opening game of the 2002 World Cup.

The architect of the resounding performance was none other than Frenchman Bruno Metsu.

The former Lille boss, who has since gone on to coach Qatar and United Arab Emirates, worked out a perfect plan to bring down Les Bleus, with Papa Bouba Diop scoring the only goal of the game.

After this historic success, Senegal went on to reach the quarter-finals in what was their debut appearance at the World Cup.

Getty

Lothar Matthaus

Nationality: German
Saw off Germany with Hungary in a 2004 friendly

Lothar Matthaus may not have enjoyed many noteworthy triumphs during his coaching career but the legendary midfielder did pull off a major shock during his time in charge of Hungary, whom he led to a 2-0 victory over Germany.

Rudi Voller, his 1990 World Cup-winning team-mate, still remembers it well – as he was on the opposite bench.

Getty

Hernan Dario Gomez

Nationality: Colombian
Victory with Ecuador in the 2006 World Cup qualifiers

Having coached all over South America, Hernan Dario Gomez had to face his home nation Colombia several times, but beat them just once.

It was in June 2004, six rounds into the their 2006 World Cup qualifying campaign. The 2-1 win proved crucial as Ecuador went on to secure a place in the tournament in Germany, whereas Colombia missed out.

Getty

Luiz Felipe Scolari

Nationality: Brazilian
Friendly wins over Brazil with Portugal

Brazil's 2002 World Cup qualifying campaign looked doomed by the time Luiz Felipe Scolari took over with five games left. The experienced coach lost his first game, but managed to not only save Selecao by sealing a spot in the competition, but went on to guide them to a fifth world title.

Scolari left Brazil after the success and took charge of Portugal, coming up against his home nation in his second match.

It had been 41 years since Portugal had last beaten Brazil, but Scolari brought an end to that long wait with a 2-1 victory against a team that consisted of Ronaldo, Ronaldinho and Rivaldo.

Four years later, Scolari helped Portugal to another win over the South Americans, beating them 2-0 in London.

Getty Images

Marcelo Bielsa

Nationality: Argentine
Won 1-0 with Chile in 2010 World Cup qualifying

After losing 2-0 to his own country the first time Chile came up against Argentina in the 2010 World Cup qualifiers, Marcelo Bielsa got revenge with an important victory in 2008.

Chile had failed to beat their South American rivals in 23 attempts over 35 years, but finally came out on top thanks to Fabian Orellana's first-half goal on home soil, while the likes of Lionel Messi, Gonzalo Higuain and Diego Milito failing to find a way past Claudio Bravo.

PROSHOTS

Pim Verbeek

Nationality: Dutch
Won 2-0 with Australia in 2008

Australia looked doomed to another defeat at the hands of a top nation after Klaas-Jan Huntelaar gave Netherlands the lead six minutes into their friendly in Eindhoven in 2008.

But the Socceroos, coached by recently appointed Dutchman Pim Verbeek, fought back when Maarten Stekelenburg was sent off at the end of the first-half, allowing Harry Kewell to level the game with a penalty.

Australia capitalised on their numerical advantage to go ahead in the second period when Joshua Kennedy headed past substitute goalkeeper Henk Timmer.

Verbeek's Australia came up against Oranje again in 2009, drawing 0-0.

PROSHOTS

Guus Hiddink

Nationality: Dutch
Eliminated Netherlands from Euro 2008 quarter-finals with Russia

After sailing through the group stage by humiliating France and Italy, Netherlands entered the knockout rounds as one of the strongest contenders for the Euro 2008 title.

But Oranje came up against a familiar face when they were paired with a Russia side led by Dutch coach Guus Hiddink. Russia demolished Marco van Basten's team 3-1 in the quarter-finals, before being outclassed by Spain in the next round.

Getty

Gerardo Martino

Nationality: Argentine
Led Paraguay to 1-0 win over Argentina in 2010 World Cup qualifying

The four years Gerardo Martino spent in charge of Paraguay remains the Argentine's longest spell in a job and the ex-Barcelona and current Mexico boss will have some happy memories of that time.

Reaching the World Cup quarter-finals in 2010 and the Copa America final the following year will stand out in his mind, but so too will the important 1-0 victory over Argentina in 2009.

Near the end of the qualifying campaign for the tournament in South Africa, Tata orchestrated a 1-0 win over an Albiceleste team coached by the legendary Diego Maradona and consisting of Lionel Messi, Sergio Aguero and Javier Zanetti.

Getty Images

Giovanni Trapattoni

Nationality: Italian
Coached Republic of Ireland to 1-0 friendly win over Italy in 2011

Giovanni Trapattoni has faced Italy four times as a coach, but has only emerged victorious on one occasion.

His Ireland team had drawn with the Azzurri twice already in their unsuccessful 2010 World Cup qualfying campaign, but a 2011 friendly in Belgium set the scene for an impressive 2-0 win through goals from Keith Andrews and Simon Cox.

It was Ireland's sixth win in a row and was part of an incredible 16-game unbeaten run for the Boys in Green.

Gettyimages

Jurgen Klinsmann

Nationality: German
Twice beat Germany while in charge of United States

After guiding Germany to the World Cup final in 2006, Jurgen Klinsmann had another crack at international football when he took charge of the United States.

The former attacker went up against his own country and former assistant Joachim Low three times with USA and came out on top on two occasions.

First, USA dominated against Germany in a 2013 friendly, winning 4-3 thanks to a Clint Dempsey double, a Jozy Altidore strike and an own goal by Marc-Andre ter Stegen.

Two years later, USA picked up a 2-1 victory in Germany, this time coming from behind through Mix Diskerud and Bobby Wood.

Getty Images

Andreas Herzog

Nationality: Austrian
Beat Austria 4-2 with Israel in Euro 2020 qualifying

Jurgen Klinsmann's assistant at the USA national team for four years, Andreas Herzog picked up a few tips on how to beat your home nation from his mentor.

Herzog is Austria's most capped player of all time with 103 caps but his current role as Israel boss means he must see his homeland as rivals for a place in Euro 2020.

The 50-year-old has won the first battle between the two, as Israel beat Austria 4-2 on Sunday in a bright start to their campaign.