UEFA Champions League
Zinedine Zidane: France's Greatest Champion?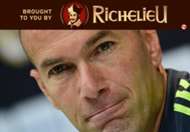 He may still be a rookie manager, but Zinedine Zidane, is already on the brink of history as he takes Real Madrid close to a second Champions League final appearance.
No side has ever retained the title since the European Cup became the Champions League, and yet Zidane, who failed to retain the trophy during his celebrated playing career, has taken a major step to the title after his Merengues beat Atletico Madrid 3-0 in the first leg of their semi-final.
Zizou is still yet to complete two years as a manager, but of course, he knows his way around the elite end of continental football. He knows the rarefied air of major semi-finals and finals as well as almost anyone, and has experienced both glorious successes and demoralising failures on the grandest stage of all.
Rarely has one man been as responsible for his nation winning the World Cup as Zidane was in 1998 when he twice headed past Claudio Taffarel as Brazil fell 2-0 in the final.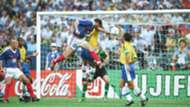 However, eight years later, he was the villain of the piece, leaving France in the lurch as he headbutted his way into retirement in the global showpiece against Italy.
The Azzurri went on to win that match on penalties, although the image of Zizou trudging past the World Cup trophy…unwrapping his wrist bands like a fallen boxer…was the defining image of that evening in Berlin.
For such a celebrated player, and one who had such a glorious career, it's intriguing that Zidane only ever won one Champions League title.
That's a lot of failure at the highest level, but again, it's the great success that stands out, as the genius playmaker singularly felled Bayer Leverkusen in the 2002 with an astonishing volley—perhaps the greatest goal the final has ever seen.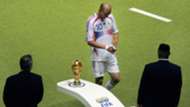 He doubled his tally of Champions Leagues won only a few months into his managerial career when Real beat Atleti in last year's final, and he's impressed in La Liga this term during his first full campaign as a boss.
Real may have lost the Clasico last month, but Zidane has helped Los Blancos move on from the underwhelming Rafael Benitez regime and they currently sit level on points with Barcelona with a game in hand.
While missing out on the Spanish title would be a significant failure, Real will be desperate to become the first team since AC Milan in 1990 to retain the continent's top prize...and win their 12th European Cup.
After Atletico were outclassed, on Tuesday, they certainly appear primed for another final appearance, where Juventus, who won 2-0 at Monaco on Wednesday, appear the most likely opponents.
In Zidane, they have just the man to see them over the finish line, to guide them through a major final and to write their names in history.