Young Africans
Nadir Haroub 'Cannavaro' : "We must score two goals"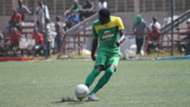 Young Africans skipper, Nadir Haroub 'Cannavaro' is confident that his team is going to Gaborone to win and qualify for the CAF Champions' League group stage.
 20 Young Africans players flew to Botswana for the second leg tie against Township Rollers, the Tanzania giants need to win 2-0 to qualify.
Speaking to Goal, Cannavaro, said he knows the game is going to be tough to them due to the first leg result but they plan to do their best.
"We are going to fight and we must score two goals, I know it's not easy but we will try our best, because we have already seen how they play in the first leg and our coach has given us good techniques that can help us to win the game," said Cannavaro.
The veteran captain feels that all Young Africans players know what club needs from the match and he believes they will play hard for all the 90 minutes.