Young Africans
Yanga keep pressure on Simba with win against Stand United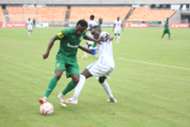 The brilliant Yusuph Mhilu scored one goal and produced another in Yanga's 3-1 victory against Stand United at the National Stadium, the win for Jangawani Boys means they are only behind of their rival Simba on goal difference on the top of Ligi Kuu table.
Mhilu fired Yanga ahead in the 6th minute following fine counter attack which initiated by Edward Maka on the middle of the park. Five minutes later Ibrahim Ajib made it 2-0 for the home side who dominated the the majority of the first half.
In the second half, the visitors produced an improved performance that brought a late goal for Vitalis Mayanga.
However, Obrey Chirwa made sure of Yanga's 8th consecutive Ligi Kuu win after racing to catch Mhilu long pass to score his 12th goal of the season in the Premier League.
Mhilu was one among the five changes made by Coach George Lwandamina and surely he did not disappoint in this match. His pace, creativity and speed was vital for many Yanga's attacks especially in the first half. 
Other players who did get the chance to impress were Juma Abdul on the right back and Maka Edward as a defensive midfielder who capitalized on the absent of Pappy Tshishimbi.