Lionel Messi
Xavi on Messi's contract renewal: 'For me, it's done'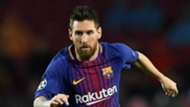 Lionel Messi has agreed a new contract with Barcelona last summer however, the Argentine international hasn't yet put pen-to-paper on a deal which is expected to end in 2021.
Barcelona president Josep Bartomeu had reportedly stated back in September that Messi had signed a contract renewal.
"Leo's commitment to Barca is total. His father has signed the renewal and, therefore, the only thing left to do is to take the photograph," he told the club's official website.
Last week Javier Tebas, the La Liga president, also mentioned that Messi had already signed a new deal with Barcelona.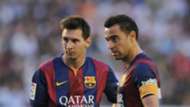 However, there has been no official announcement as such and the 30-year-old can speak to interested clubs in January should he opt not to sign the new contract with the Blaugrana.
Now, Xavi Hernandez, the former team-mate of Messi at Barcelona, has stated that in his opinion, the Argentina skipper has penned a new deal.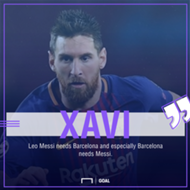 "We are not sure as the Barca president said yes (he has). But for me, it's done. Leo Messi needs Barca and especially Barca needs Messi. It would be very good for Barcelona that Messi stayed there for his entire career," said Xavi.
"As a member of Barcelona, I would like Messi to remain at Barcelona for his entire career. Because we have a better chance of winning titles if he stays at Barca. He is the best player in the history of the game," he added.
Xavi also believes that although Barcelona have had a fantastic start to the season where they already have a 10 point lead over Real Madrid, they still can improve.
"Barca is doing well and of course, they can do better. The beginning of the season has been spectacular for them. I think the team is doing good."