Neymar
Xavi tips Neymar as next in line for Ballon d'Or behind Messi and Ronaldo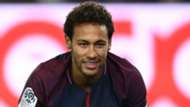 Barcelona great Xavi believes Neymar will win the Ballon d'Or after Lionel Messi and Cristiano Ronaldo's dominance ends.
The past 10 Ballons d'Or have been won by Barcelona star Messi and Real Madrid forward Ronaldo, with Kaka in 2007 the last player outside that duo to claim the coveted individual honour.
Xavi, who finished third for the prize from 2009-11, feels Paris Saint-Germain star Neymar will claim the Ballon d'Or immediately after the two modern-day greats slow down.
"I have tremendous respect for Neymar, he's an amazing footballer," he told RMC on Wednesday.
"When Messi or Ronaldo will be in a bad shape, and we'll see more at Cristiano because of his age [33], Neymar will be the next Ballon d'Or winner. I'm sure of that."
Xavi and Neymar were team-mates at Barcelona until the former left for Al Sadd in 2015, while the latter made a world-record move to PSG last year.
The 38-year-old Xavi sung the praises of the Brazil international, lauding Neymar's character.
"I respect the player but also the person, he is a natural leader in the locker room and on the pitch," he said.
"He is someone who always wants the ball, ready to do the show and do things well."
Xavi added: "I have the chance to know him personally and he is an exceptional person."
Neymar will get his chance to show up Ronaldo in the Champions League, with PSG slated to take on Madrid in the last 16.