Confederations Cup
World Cup disaster in waiting? VARs could ruin FIFA's 2018 tournament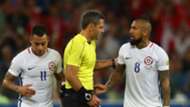 The Confederations Cup is a warm-up ahead of the World Cup in 2018 and the video assistance referee (VAR) system is going through its testing stages here in Russia with FIFA president Gianni Infantino said to be insistent about its usage in the main tournament next year.
If any message is to be fed back to Infantino it's that much more work needs to be done to have everyone prepared for the widespread implementation of the VAR system at the top level.
Liverpool finalising £35m Salah deal
If we don't see an improvement in the calls that are currently being made then bringing it in would do more to spoil the World Cup than any other decision.
What occurred in the game between Cameroon and Chile could only be described as chaos. It gets to the root of the current issue around VARs: on-field referee's doubting their own decision making capabilities. This would appear to go against IFAB's philosophy regarding VARs of "minimum interference, maximum benefit".
The question that VARs seek to answer is not "was the decision right?", but rather "was the decision clearly wrong?". In the case of Eduardo Vargas' goal at the end of the first half – even after multiple replays – there is simply no justifiable way in which you could say that the original decision to award the goal was clearly wrong.
If referees are going to start demanding replays for every marginal call then we are in for a disaster World Cup.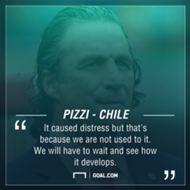 However, we should not rush to judgement considering that VARs are new for players, coaches and referees alike. Everyone needs time to get used to it. Some are further along the process than others.
VARs were used to great effect in a recent friendly between France and Spain but that was because the team of German officials all had "offline" training before the game. All Bundesliga officials have benefited from that in the year before the VARs roll out in German football.
Ronaldo offered free beer for life
FIFA has got to make sure that its full list of officials for the World Cup can do similar before forcing it onto the agenda. If the game is not ready then we should overlook its implementation until it is.
"This system needs time to get it right," said the Chile coach Juan Antonio Pizzi. "We are still in the testing phase and it is true that feelings can be difficult because we are used to a different situation in our world of football.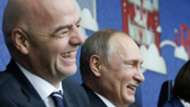 "So we have to wait and see. Maybe after some time it will get better. The first half incident created some distress but then also because we are not used to it.
Confederations Cup: Fixtures, results & guide
"I would say that such technology can bring us more justice in football but right now it's still a little difficult for the players. Even if it's the right decision it still has an impact on their emotions."
Thirteen national federations or competition organisers have either been participating or have applied to be part of the trials, meaning potential World Cup officials will be relatively inexperienced in working with VARs by the time the tournament rolls around.
We don't expect the final word on whether VARs will be used at World Cup 2018 until next March.
What we cannot afford is another situation like the Vargas goal, when a perfectly legitimate goal is scored and acknowledged as such by the on-field referee only to be discarded in the mistaken belief it was offside.