World Cup
World-class Lukaku indispensable for Belgium as he scores another double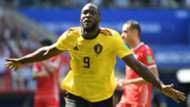 Romelu Lukaku began his World Cup campaign for Belgium claiming that he had suffered from a lack of respect from his nation's fans. He had, he said, received only one standing ovation throughout his time with the national team.
Well he can add two more to that total after a record-breaking start in Russia. He got one stading ovation earlier in the week against Panama for his two goals and two more strikes here against Tunisia bring him up to a total of four goals at this tournament. It is more than any other Belgian has ever managed at a World Cup and he sits level with Cristiano Ronaldo at the top of the charts. 
He went off after 58 minutes and there might be some slight concern that his afternoon at the Spartak Stadium ended so prematurely. Until that point he had been Roberto Martinez's best player; a formidable forward presence with a deft touch in bringing others into the game and a cold-hearted killer when given the opportunity to strike.
But at one stage in the first half after he had breached the Tunisia defence yet again, he was caught by the sliding body of the goalkeeper Farouk Ben Mustapha. He was provided treatment on his ankle on the sideline shortly after and cut a cumbersome figure when he finally took his leave.
After he left, Belgium had 10 minutes in which they played with Eden Hazard up front alongside Dries Mertens. Although the Napoli man features centrally at club level, Martinez will be unconvinced that he can do so for the national team given the ease with which Tunisia pressed the team back after Lukaku's departure.
It wasn't until Hazard was replaced by Michy Batshuayi – sensibly given Tunisia's eagerness in the tackle – that Belgium again became the dominant force in possession.
Martinez throughout his tenure has attempted to forge this Belgium unit into one that resembles a club team. He is seeking fluency, he is seeking intuitive football with which his players are comfortable. And he is getting there for the most part. Not for the Spaniard the kind of chopping and changing that happens under Jorge Sampaoli at Argentina. There is a clarity of purpose and a proper definition of roles in the team.
Lukaku is no exception. He was roasted by captain Hazard after the Panama game for failing to put enough into the build-up. He will be under no illusions as to his centrality to the cause. Lukaku is the one dictating the press to his team-mates and he is responsible for the lay-offs and the runs.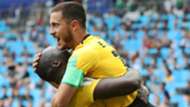 It is abundantly clear that he is productive under Martinez – the manager who first signed him for Everton in 2013. He has scored 23 times in 20 caps under this coach – with 16 in his last 11 - and has clearly benefitted from the advice imparted to him by Thierry Henry, also on the Belgium coaching staff.
Before that, he wasn't half as productive.
And now Belgium have the World Cup's top scorer; a world-class striker fulfilling expectations. Martinez insists that no Belgium player is getting carried away with the prospect of individual accolades and if Lukaku indeed finishes with the Golden Boot then it will be as an offshoot of all-round squad excellence. 
Tougher tests are to come and Lukaku will have to prove that he's not just capable of scoring in twos and threes against the lesser lights. But Belgium's eight goals in two games should do plenty for their self-belief.