Premier League
Why Payet's Marseille transfer does not make him a mercenary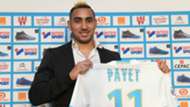 ---
COMMENT
---
When the January transfer window closes on Tuesday evening, it is likely to be remembered primarily for Dimitri Payet's arm wrestle to leave West Ham. 
Carlos Tevez becoming the world's highest-earning player by transferring to the Chinese Super League has apparently been forgotten, along with the likes of Oscar moving east to continue their careers in apparently lavish obscurity. 
Man Utd make €80m Griezmann top target
The Frenchman has taken centre stage and has been transformed into a pantomime villain by West Ham fans and a media hungry for a saga in what has been a comparatively quiet January.
When he signed a new deal with the club 11 months ago, he turned his back upon the riches of the CSL and a potential £36 million move to remain with the London side. He was richly remunerated by the Hammers, for sure, but his willingness to reject a more lucrative offer highlighted that he was not merely at Upton Park, where they played at the time, for financial gain.
At that time, he was the poster boy of Slaven Bilic's side, would go on to win their Player of the Year award and even make the six-man shortlist for the PFA prize.
As the 29-year-old completed a move to Marseille on Sunday, he did so with his reputation ruined – a figure of rabid hate and frothing disgust mere months after being the all-conquering hero.
"Snake" and "spineless" were two of the kinder comments that came his way as he tweeted a picture of plane with the caption: "I'm going back home."
It was clear, however, that the France international was not happy in England. "I did not feel very good there," Payet admitted at his presentation on Monday.
Just as circumstances that fell kindly into play for West Ham to sign the Frenchman, who made it abundantly clear that he did not want to leave OM in the first place, they contrived to work against them to allow their ace to return to Provence.
Robinho: Real Madrid blocked Chelsea move
New owner Frank McCourt's 'Champions Project' has just kicked into gear this month, signifying what Marseille expect to be a calmer time financially and politically, and Payet admitted that he is keen to act as the spearhead of it. "This is what I wanted, it was clear from the start," he said at his presentation on Monday. "I wanted to leave for this project which is just starting."
Along with Patrice Evra, he represents a major transfer coup for OM, even at a price of £25 million, with his capture a signal that McCourt is ready to match his ambitions with his wallet.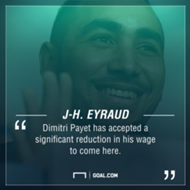 The deal comes at a cost to the player, however. "He has accepted a significant reduction in his wage to come here," club president Jacques-Henri Eyraud said at the unveiling.
While Payet should not be portrayed as a saint – after all, he will still earn a wage unimaginable to most – that he has taken a salary cut reportedly as much as 20 per cent is hardly representative of the mercenary that he is being cast as.
How Griezmann would fit in at Man Utd
Loyalty, it should be noted, should flow two ways. If Payet was as unhappy in London as it seems – and the magnitude of pay reduction he has taken would certainly suggest that – then perhaps the club should have been willing to shake his hand and see him off in the manner his exploits of last season deserved.
Instead, co-chairman David Sullivan added his voice to the braying masses when he released a statement following the completion of the deal that strongly criticised the player's attitude.
One particular point of contention appears to be the "lucrative" nature of the deal that Payet signed with the Hammers nearly a year ago. There's a belief in the Premier League that if enough money is thrown at a problem, it can be solved. If that problem still exists, the lure of playing in 'the greatest league in the world' should be enough of a draw to overcome that. Payet didn't want more money, but he's vilified because he's their star.
Payet: I don't need to justify myself
Of course, it should be noted that Payet is no angel. Earlier in his career he tried to force his way from Saint-Etienne to Paris Saint-Germain using a similar method, and there can be little excuse for failing to fulfil his professional obligations in the build up to his move back "home".
The narrative, though, is fractured. How can players who leave the Premier League, and indeed Europe, for China be criticised, but Payet is chastised to an even greater level for reasons of personal happiness? Loyalty is subjective - and West Ham would do well to remember that next time they choose to criticise one of their stars.