Premier League
Why Arsenal must build their team around Ramsey with Cazorla's days numbered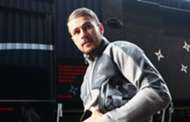 ---
COMMENT
---
There are a handful of players in the current Arsenal squad who have yet to fulfil their potential and Aaron Ramsey is undoubtedly one of them.
Perez wants a Galactico signing before Madrid elections
At 26-years-old, Ramsey is entering into almost a decade playing under Arsene Wenger where he has struggled to pin down a regular spot in the Gunners starting XI. The infamous foul from Stoke defender Ryan Shawcross in 2010 which broke Ramsey's leg goes some way to explaining why his career progression hasn't gone as smoothly as planned, but it certainly doesn't tell the full story.
Monday's game against Middlesbrough saw Ramsey notch a 91 per cent passing accuracy rate from his 67 passes, 11 recoveries and one assist for Mesut Ozil which helped secure the vital three points. It was an improved performance from a player who made only his eighth start of what has been an incredibly frustrating season for him. Perfectly weighted passes, intelligent running and an ability to break through the final third of the pitch make Ramsey a crucial player for an Arsenal team currently ravaged by low confidence.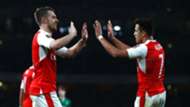 Ramsey's movement across the pitch was intelligent and helped Arsenal's attacking moves. He can combine as a link-up player with the likes of Alexis Sanchez and Ozil, both of whom enjoy playing with the former Cardiff man. His availability makes him a key cog in the team and Man of the Match performances for Wales at Euro 2016 finally established his name on the European stage where he thrived in his favoured 'No.8' position.
Wenger has previously compared Ramsey to former Chelsea midfielder Frank Lampard and while his goalscoring prowess has been limited this season, an ability to play in a number of positions is likely to work in the Welshman's favour over the coming games. 
"He is a player who is box-to-box so overall he pushes the team forward," said Wenger.
"That is what we want in our side. He can play in holding midfield, he can play if needed on the flanks as well. That's where he is not happy but he can play there as well.
"He has a tremendous drive, he's a bit Lampard-ish you know, where he likes to get in the box, likes to shoot from distance and has similar quality."
A total of 373 days, 72 games. That's how long Ramsey has spent on the sidelines since his injury at Stoke seven years ago and while he has now fully recovered from the leg break, there is no doubt that it came at a devastating time for a player who was flourishing in the Arsenal midfield at the time. This season, Ramsey has found games difficult to come by and his preferred 'No.10' role is a position which will permanently be filled by Ozil until the German eventually departs north London.
Ronaldo slowing down but still incredible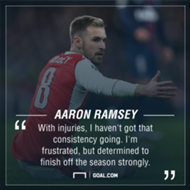 Santi Cazorla is a two-footed, skilful, technically gifted midfielder who has spent the campaign out injured. Gunners boss Wenger will keep him at the club for next season but his unreliability when it comes to keeping fit means it's unlikely that he'll play more than 10 to 15 games for Arsenal, opening the way for Ramsey to firm up that midfield spot. The 3-4-2-1 formation against Boro suited the Welshman's game and he had clear licence to contribute at both ends of the pitch.
Ramsey's superb engine gives him an advantage over the likes of Mohamed Elneny and Francis Coquelin because of the way he channels that energy. He ran a jaw-dropping eight miles during the win over Swansea in January - the furthest distance covered in a league match by any Arsenal player all season. However, the defensive side of his game has certainly been lacking at times and confidence was previously identified as an issue - Ramsey regularly gets singled out for abuse on social media, particularly from high profile supporters such as Piers Morgan.
Wenger gave Alexis the opportunity to prove himself as a striker despite several barren performances through the middle. The freedom given to the Chilean is a mark of the Frenchman's trust in his talismanic forward and it should also be shown to Ramsey, a player whose bursting runs into the opposition half can provide the progression in Arsenal's attack which has been lacking in recent games.