Opinion
Why Arsenal duo Lacazette & Giroud can play together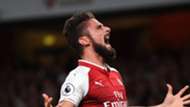 ---
COMMENT
---
"Something in my heart and soul told me to stay," beamed an emotional Olivier Giroud after Arsenal's 4-3 victory over Leicester on the opening day of the Premier League season.
It was a romantic statement and one which is rare among many professional footballers today. Those who claim to have an emotional attachment to their respective club cannot always be taken at face value, but Giroud's words are certainly more than just words. This summer he has thought long and hard about leaving the club and manager who plucked him from France's top flight in 2012 following his league triumph with Montpellier.
Giroud won the Golden Boot in Ligue 1 that season after scoring 21 goals. He will be given opportunities at Arsenal this season although many of them are likely to be from the substitutes bench, as was the case on Friday night's league opener. The 30-year-old's reputation for being an impact player ended up being strengthened last season where he became the club's leading goalscorer as a substitute.
The Frenchman's critics point to an unfounded view that he's simply a target man and nothing more — but that statement couldn't be further from the truth. Giroud's deft touches, ability to link up play and surprisingly impressive passing ability make him a multi-faceted forward who defies the laws of physics at times when it comes to his movement and playing style.
It's worth noting that Giroud – a player who was playing in the fifth tier of French football almost a decade ago — was first signed to replace Robin van Persie in 2012. The lofty expectations of many supporters, pundits and journalists weren't immediately fulfilled but a quick look at his Arsenal statistics show that he has more than delivered on the £10 million transfer fee paid for him.
70 Premier League goals and 23 assists in 165 appearances cannot be argued with and while Giroud doesn't always set a match alight, his ability to contribute in a meaningful way whether it be a goal, assist or an opportunity created makes him one of Wenger's most reliable players.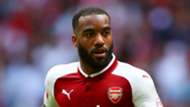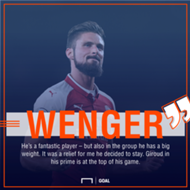 Wenger, however, has made no secret of his desire to sign a 'world-class' player in Giroud's position, having previously failed in attempts to sign Gonzalo Higuain and Luis Suarez. Moves for those two didn't come to fruition and while Jamie Vardy rejected the Gunners last season, they finally landed a long-term target in Alexandre Lacazette for a club-record fee this summer.
It's fair to say that Giroud has endured a series of highs and lows during his time at Arsenal. Yet while the pursuit of a player in the same position may contribute to uncertainity in his own game, it's testament to the Frenchman that he managed to respond on the pitch every time with crucial goals — as he delivered Friday night.
"Olivier is a guy who is mentally absolutely fantastic," Wenger told the club's official website.
"He's strong and every time he's questioned, he gives you the right answer on the pitch. I admire that in him. He's a guy who has gone through some difficult times."
There is no doubt that Giroud and Lacazette can play together. While France boss Didier Deschamps clearly prefers the balance and link-up between Giroud and Antoine Griezmann, the differences between international football could not be more vast than those of the Premier League. The high-tempo, counter attacking style of many teams could give Lacazette licence to roam in from the left hand side with Giroud an option through the middle.
Wenger is spoilt for attacking options with the likes of Alexis Sanchez, Danny Welbeck and Theo Walcott all capable of playing in similar areas to Giroud. Fortunately for the long-serving Gunners boss, the news that his most important impact player has decided to stay could prove the difference between mounting a genuine title challenge or going one step further and winning it.