WTF
Who's the bigger social media star, The Miz or Ronaldo?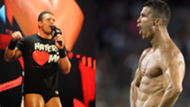 With millions of followers on social media, the Miz is one of the WWE's biggest superstars. But how does he compare to the biggest stars in football?
While he was in England for WWE's UK tour, Goal sat The Miz down to talk about cheating in football and if he thinks he's more popular than some of the biggest football players in the world.
Cristiano Ronaldo, David Beckham and Mohamed Salah. Do any of these players beat the Miz on social media?
Who's the real social media star, @WWE's @mikethemiz or Ronaldo?

We challenge 'the awesome one' to guess if he's a bigger celebrity than these football legends! #WWE pic.twitter.com/uHuOcsvYTP

— Goal (@goal) May 30, 2018
The Miz isn't afraid to 'cheat' to win a match, but what does he think about diving in football and who's his tip for the World Cup?
Is it cheating to dive in football? @WWE's @mikethemiz has his say! pic.twitter.com/SxakpNW1NA

— Goal (@goal) May 30, 2018
The Miz can be seen every Tuesday night on SmackDown LIVE.