AFF Championship
Who is your best player of the 2018 AFF Championship?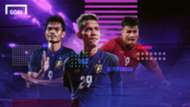 The 2018 AFF Championship concluded last Sturday with Vietnam claiming their second ever title after defeating Malaysia with a 1-0 score in the second leg to win by 3-2 in the aggregate. It caps a wonderful 2018 for Vietnam football that saw them reach the AFC U23 Championship final as well as the Asian Games semi-final.
This time, Goal invites readers from the whole of Southeast Asia to choose their choice of best player of the championship. From the first round of nominations, these three players have garnered the most votes among readers. They are Nguyen Quang Hai (Vietnam), Sanrawat Dechmitr (Thailand) and Adisak Kraisorn (Thailand).
Make your votes count for the one you this is most worthy!
---
BEST PLAYER FINAL 3
---
Who is the best player of the 2018 AFF Championship?
The method:
Choosing the best player is the combined efforts of readers and editors across all five Southeast Asia editions: Malaysia, Indonesia, Thailand, Vietnam and Singapore.
The weightage is 50-50 between readers and editors.
The highest nomination from readers gets 25 points, second highest 15 points and the third gets 10 points.
Every Goal Southeast Asia editors top picks get 5 points, second gets 3 points and third gets 2 points.
The best player of the 2018 AFF Championship will be revealed on Monday December 24 2018.
Follow  Goal Malaysia  on Instagram