Cristiano Ronaldo
Who is the richest footballer in the world?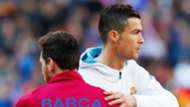 With modern-day salaries, bonuses and endorsements, it can be relatively straight-forward for the world's top stars to earn a small fortune.
However, long gone are the days when players solely earned their wages from the teams they played for, and many footballers now are paid more by outside sponsors than their actual club.
The likes of Cristiano Ronaldo and Lionel Messi have tapped into that market, and have been richly rewarded for their marketing exploits.
For Ronaldo, his huge social media following, Nike CR7 brand and sponsorships deals with likes of Tag Heuer, EA Sports and Sacoor Brothers have helped him amass an estimated fortune of $450 million.
Messi, on the other hand, is worth just less than his old foe - an estimated $400m.
According to Forbes, Floyd Mayweather and Conor McGregor are the only athletes who earn a higher annual salary than the Barcelona forward's $111m annual income. 
Ronaldo's income via endorsements far outstrips Messi's, and makes him one of the world's richest athletes.
The pair have become so marketable throughout their careers that their closest competitors have earned less than half of the sums gained by Ronaldo and Messi.  
The likes of Zlatan Ibrahimovic ($190m), Neymar ($185m), Wayne Rooney ($160m) and Gareth Bale ($125m) are also among sport's most wealthy individuals.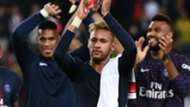 However, it's not just current players who can earn a fortune from their talented feet. Former professionals such as David Beckham ($450m) and Ronaldo ($150m) gained contacts and links from their playing days, which they are still benefiting financially from today.
Former Wigan Athletic chairman Dave Whelan is another example. The 81-year-old has an estimated net worth of $210m.
However, perhaps the wealthiest footballer of all is Leicester City winger Faiq Bolkiah.
The 20-year-old is the nephew of the Sultan of Brunei (Hassanal Bolkiah) - who is worth an estimated $20billion!