Arsenal
Who is Arsenal's player of the season?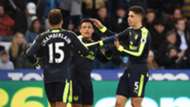 Arsenal's season has been full of disruptions, setbacks and inconsistent performances but the Gunners could still end the 2016/17 campaign with an FA Cup trophy and top-four spot if everything goes to plan for manager Arsene Wenger.
The Frenchman, whose contract expires this summer, has seen much of the focus on his own position and there is still no decision made on whether he'll be staying or leaving despite the man himself previously saying there would be an announcement in "March or April".
Liverpool eye move for Roma's Salah
Player of the Season awards are usually decided on the basis of consistent performances, high-value contributions and all-round improvement in their individual play, with several Arsenal players edging their way onto the list for the first time.
Goal takes a look at who Arsenal's most consistent performers have been this season, picking out three first-team stars that have impressed in the current campaign.
---
3. THEO WALCOTT
---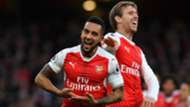 While many would argue that Walcott's performances haven't set the world alight this season, his numbers speak for themselves.
The England man has contributed the majority of his 10 goals from the right wing, after confirming that he wants to play on the flank. Walcott's impressive stats are mostly down to the fact that he is settled in his position, playing with confidence and is coming into the peak years of his career.
Why everyone wants Buffon to win the CL
Walcott's technical ability has previously been brought into question but his qualities - particularly pace - make him an excellent impact player to come off the substitutes bench when the opposition defenders are tired and a game needs to be stretched.
His hat-trick against former club Southampton in January will be remembered as a season highlight.
---
2. ALEX OXLADE-CHAMBERLAIN
---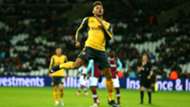 Oxlade-Chamberlain has finally got the better of his injury problems and will surely consider this season to be his best at the club so far. 
He's been played on the right wing and in central midfield but Wenger's recent formation change to three at the back has resulted in a right wing-back role that suit the marauding runs of the England international, who is nothing if not versatile.
His best performances include the recent FA Cup semi-final win over Manchester City and an outstanding cameo appearance at Old Trafford, where Chamberlain assisted Olivier Giroud for a last-minute equaliser.
The future of Oxlade-Chamberlain is up in the air, though, with Wenger hoping to sign the 23-year-old to a new long-term contract. His deal expires next summer and a host of clubs including Liverpool are interested.
---
1. ALEXIS SANCHEZ
---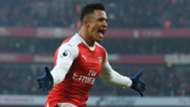 The talismanic Chilean has been by far Arsenal's best player this season due to the amount of goals and assists he has contributed. 
His hat-trick against West Ham in December was a particular highlight as it showcased exactly what Sanchez brings to the team. An unrivalled skill set, ability to beat a man and score from almost anywhere on the pitch has made him a sought after player this summer.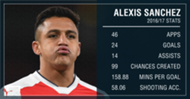 However, his performances have tallied off towards the end of the campaign, which coincided with Arsenal's dismal form in February and March. The 28-year-old is creating fewer chances, making fewer assists and scoring fewer goals compared to the first half of the season.
With his contract expiring next summer, it is vital that Arsenal do everything they can to keep hold of Sanchez, but the likes of Bayern Munich, Paris Saint-Germain and Manchester City will be confident that they snatch him from under Wenger's nose.