Ligue 1
What's in a name? Introducing Ligue 1 rising star Marcus Thuram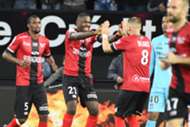 Marcus Thuram has a lot to live up to. 
The 20-year-old Guingamp striker, who grabbed his second goal for the season when he struck after just 56 seconds versus Toulouse on Saturday, is the son of France World Cup hero Lilian Thuram. 
While there are few more legendary figures in the game than the former Monaco, Parma and Juventus defender, it should come as something of a surprise that his eldest is playing at the other end of the field. Goalscoring was not an attribute readily associated with Lilian, who netted a mere 15 times in a career spanning 825 matches.
Perhaps it was fate that Marcus showed something of a rebellious side to his nature, having been named after cilvil rights activist Marcus Garvey.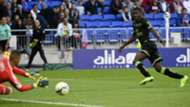 Thankfully for the youngster, who was born in Italy, where his father was playing with the likes of Gianluigi Buffon and Fabio Cannavaro at the time, he has shown a greater aptitude for scoring them than stopping them.
He has been playing top-flight football for less than two months since making the jump from Sochaux to Brittany in the summer, and already he has a couple of strikes to his name.
Marcus has long promised to grace the professional ranks, having joined the youth academy of the Stade Bonal outfit at 15 on the advice of his learned father.
"Sochaux is quite far from everything, there's not much media coverage, it's a bit of a protective cocoon," Marcus told L'Equipe. "It was my dad who told me to run away from the bling-bling!"
It was in the Sochaux academy, one of the most renowned in France, where he first received international recognition, turning out for France's Under-17 squad, and he has since played for the national team all the way up to U-20 level thus far.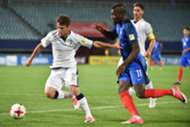 It was also the club where Marcus made his senior debut, coming on as a substitute in March 2015 against Chateauroux. A couple of months later, he was a scorer in the final of the prestigious Coupe Gambardella, which pits the youth academies of France's best clubs against each other. 
A professional deal followed a matter of weeks later and he spent the following two seasons slowly muscling his way to more regular minutes.
Former Paris Saint-Germain defender Antoine Kombouare, who is now in charge of Guingamp, has hastened his progress towards the top, using him as a centre forward as opposed to on the wing where he primarily played at Sochaux. 
Thuram has been charged with providing a physical aspect to the team's offensive play and has already started five times this season. He is also closing in on 500 minutes of action already – testimony to his progress given he did not manage 1000 in the league for Sochaux last term.
His first competitive goal came against Lyon with a header from the edge of the six-yard box. He celebrated in familiar style, raising his hand to his mouth in a thoughtful pose that mirrored the style of Lilian in his greatest moment – when he scored two goals for 10-man France to help them win the World Cup 1998 semi-final against Croatia, the only occasion he would score for his country in 142 appearances.