Super League
West Ham United crowned Left Foot league champions with unbeaten record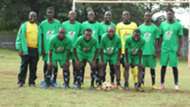 West Ham United bagged the Division One title of the Left Foot league with an unbeaten record over the weekend.
The fete was also achieved with two matches to spare as West Ham, who have always played second fiddle to Madaraka United since 2016, remained on course to equal the league's record of an undefeated season set by Astral Aviation Ltd and Umoja Gunners in the past.
In other Division One matches, Consolidated Bank lost 2-0 to Schindler Limited, Strath FC won 1-0 against Amiran Kenya, Madaraka United beat 2-0 against Nyayo FC while Bethel FC A lost 2-1 to Dayliff FC.
Cosmos Limited scored two goals in each to sink Safaricom FC 4-1 in a Division Two battle while All Saints Cathedral beat Bethel FC B 2-0, Disciples lost 1-0 to Kingsway Tyres Group, HHM drew 0-0 with Toyota Kenya, Saad Advocates drew 1-1 with Disciples, ICJ Kenya lost 2-0 to Ping Limited and MP Shah Hospital won 1-0 against NIC Bank.
SportPesa were huge winners in Division Five after hammering Commercial Bank of Africa 5-1, South C Academy B drew 0-0 with Royal Media while Bamburi Cement went down by a solitary goal to Ecobank Limited.
In the Mombasa Corporate league, Texas Alarms lost 3-0 to Tradewinds Aviation Services, Nation Media Group lost 2-0 to Maersk Group, Total Kenya went down 1-0 to Bamburi Cement while CBA won 5-3 against Sea Bulk.
In the Social league also played in Mombasa, Memon Community won 1-0 against Kitchen King Youth FC while Island Sharks lost 2-1 to Asian Kings.
In the Nairobi floodlight league, Suswa Stars beat AAR Insurance 4-1, Ping Limited beat Total Disaster 6-1, however, Total Disaster recovered to beat One Africa Logistics 6-1, Ping Limited hammered Komarock FC 10-0, Aluta FC won 2-1 against Oilibya FC, AAR Insurance lost 6-4 to Total Disaster and Concept 3 Limited beat One Africa Logistics 3-1.