Arsenal
Wenger suggests Liverpool tapped up Oxlade-Chamberlain behind Arsenal's back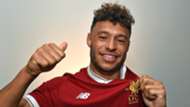 Arsene Wenger admits it would be "naive" to believe that Alex-Oxlade Chamberlain was not "tapped up" prior to his £35 million move from Arsenal to Liverpool.
The England international departed Emirates Stadium on deadline day, with the Gunners choosing to cash in on a player who would have been out of contract next summer.
They refused to do likewise with Alexis Sanchez, as Manchester City were prevented from completing a £60m deal, but Wenger concedes that his hand was forced in other discussions.
The Frenchman believes that Oxlade-Chamberlain will have been contacted prior to his switch to Anfield, although he doubts that any talks were held during a Premier League visit to Merseyside a matter of days before a big-money transfer was pushed through.
"You are not naive enough to think that will not happen," Wenger said.
"I don't know (if it happened before Arsenal's 4-0 defeat to Liverpool on August 27). I don't know.
"Have they been tapped up? Of course. But on the day of a game? I don't think so, I hope not. But it's inevitable.
"France played against Holland on the last day of the transfer window. Do you really think that not one French player or Dutch player had phone calls in the afternoon about a move or not?
"I am not naive enough to believe that. That's why you have to scrap it before the season starts."
Wenger has now got his wish regarding deadline day, with the decision taken to shorten the summer window.
Premier League clubs have agreed to end all transfer dealings before the start of the season, with the new rules set to come into effect from 2018-19.
Not all English top-flight teams supported the proposal, but changes have been made and from next year there will be an end to distracting exit talk once competitive football resumes.