Arsène Wenger
Wenger reveals why he turned down Manchester United job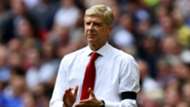 Arsene Wenger has revealed why he turned down the chance to manage Manchester United.
The Frenchman has stayed loyal to Arsenal since joining them in 1996, although former United chairman Martin Edwards has revealed that the Red Devils offered him the chance to replace Sir Alex Ferguson.
Arsenal 7/1 to win Europa League
Edwards claimed in his autobiography: "Our first choice was Arsene. Since joining Arsenal in 1996 Wenger had been greatly successful, especially in his first full season in charge when he won the Double.
"And while it's true to say he suffered hard times since, at the time we thought he was the best candidate to replace Alex. Certainly he was my number one choice.
"So we made our approach and Wenger did show a little bit of interest, enough to want to meet Peter Kenyon and me at his house in London to listen to what we had to say."
Wenger has found his position at the Emirates Stadium come under intense scrutiny in recent years but says that, while the United job was "attractive", he never felt the need to quit the Gunners.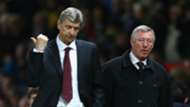 "I was always happy here, people were happy with me and I was always happy," he said.
"I love the values of this club and, for me, a club is about values first. One day it would be a good chat to have with the press to look at the evolution.
"You speak about Man United, the evolution in the last 20 years would be very interesting. A lot has changed but when I came here this club was about values that I love in sport. That is why I am still in the competition.
"I always question myself. Yes, of course, Man United is attractive but am I happy here? The answer was 'yes'.
"It is too long to talk about that but I think it is quite an interesting subject that you know certainly as well as I do, but a lot has changed.
"When I arrived here we were 80 people, today we are 700. Sometimes I cross somebody inside our club who I know, that is quite new. Most of them I don't know anymore. We have changed a lot."
Wenger, now 67, signed a two-year contract extension with Arsenal in the summer.