Arsenal
Wenger hits back at moaning Arsenal legends: 'They had their weaknesses'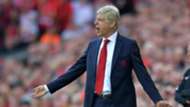 Arsene Wenger has hit back at the criticism being levelled at him and Arsenal by club legends such as Ian Wright and Paul Merson.
A number of former players have been outspoken in their views of goings on at Emirates Stadium over recent weeks.
Arsenal 15/2 to beat Bournemouth 2-1
Wenger's decision to pen a new deal sparked intense debate on the back of a fifth-placed Premier League finish in 2016-17, with a slow start to the current campaign doing little to aid his cause.
Transfer dealings in north London have also been questioned, with only two additions made and several high-profile contracts running down, but Wenger believes those with strong ties to the club should be more supportive and acknowledge that they were far from faultless during their playing days.
He said: "I always have problems understanding what a legend is and isn't. I've had all the players here, but they all had their weaknesses as well.
"They had their weak games as well, and their weak behaviours as well. Nobody was perfect.
"We have to take a distance with that as well, focus on our performance and not be dragged into any animosity.
"We are all grateful for what they have done for the club, but what matters is always the players on the pitch who can defend the pride of the club."
Former striker Wright has regularly aired his frustration, with Arsenal's apparent reluctance to address their failings incurring his wrath.
He recently told Radio 5 Live: "When you go through the list of everything that is going wrong, and you've got to throw in recruitment - whoever's doing the recruitment, someone's got to have a massive, massive word - it's an absolute shambles and I'm really gutted for everybody involved."
Merson, meanwhile, took aim at the current Arsenal squad following a humbling 4-0 defeat at Liverpool prior to the international break.
He wrote in the Daily Star: "Arsenal's 4-0 thrashing by Liverpool was the worst I have EVER seen under Wenger. It was shambolic, horrendous. I think the players have lost all respect for him. But I think the fans are losing all respect as well. They are playing for Arsenal and they are turning it into a mockery. They are embarrassing the football club."
Lee Dixon, Tony Adams and Martin Keown are among the other ex-Gunners to have criticised the club, and Wenger's role.
Arsenal will get the chance to return some positivity to the ranks on Saturday when they return to domestic action with a home date against Bournemouth.