Arsenal
Wenger challenges Arsenal's record signing Lacazette to emulate Ibrahimovic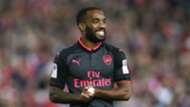 Arsenal new boy Alexandre Lacazette has been challenged to emulate Zlatan Ibrahimovic and prove that he can get goals in England.
The France international has become the Gunners' record signing, with a £46.5 million deal luring him to Emirates Stadium from Lyon.
Lacazette best price to score first at 4/1
The 26-year-old has arrived in the Premier League with an enviable goal-scoring record, but has never operated outside of his homeland.
Wenger concedes that Ligue 1 may not be as competitive as the English top-flight, but saw Ibrahimovic remain prolific at Manchester United last season following his arrival from Paris Saint-Germain and is looking for Lacazette to do the same.
He said: "With Lacazette, it's simple. He is an intelligent player. We have a game backed on mobility and technique and I think he can integrate that well. 
"After that, we get the efficiency. His record in France is to score one in 80 minutes. If he can maintain that record that would be ideal for us. As a game is in 90 that would guarantee you a goal.
Klopp: €300m for Messi seems possible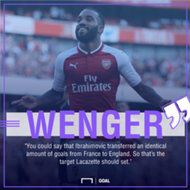 "Goal-scoring record is not necessarily transferable from the French League to the English league, that's for sure.
"But you could say that Ibrahimovic transferred an identical amount of goals from France to England. So that's the target Lacazette should set."
Ibrahimovic netted 28 times for United in all competitions in 2016-17, despite seeing his season cut short by injury.
Of that tally, 17 came in the Premier League, with the enigmatic Swede enjoying a productive campaign at 35 years of age.
Lacazette boasts the pedigree to follow that lead, with his record including four successive 20-plus goal seasons – with a personal best haul of 37 recorded last term.