African All Stars
'Well deserved!' - Twitter reacts as Mohamed Salah clinches PFA Player of the Year award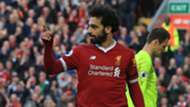 Liverpool forward Mohamed Salah has been named the PFA Player of the Year for the 2017-18 season.
Salah who arrived at Anfield from Roma on a club record fee last summer, has notched 31 goals in 33 league appearances for Jurgen Klopp's men this campaign - equalling the Premier League goal record by a player for a single season.
The fleet-footed forward has won Liverpool Player of the Month award six times and also became the first person to be named Premier League Player of the Month on three occasions
The 25-year-old saw off competitions from Manchester City's trio of Kevin De Bruyne, Leroy Sane and David Silva, Tottenham's Harry Kane and Manchester United goalkeeper David De Gea to become the first Liverpool player to claim the accolade since Luis Suarez in the 2013-14 campaign.
Meanwhile, the social media has been awash with praises for the Egyptian who becomes the second African footballer to win the award after Leicester City's Riyad Mahrez in the 2015-16 season.
A big congratulations to @LFC 's @22mosalah , the @PFA Player of the Year 👏👏👏 pic.twitter.com/b9VC3TyspW

— Goal (@goal) April 22, 2018
Records never lie!!! U can say what u want but the best player @22mosalah deserved this award more than anyone!!! 👏 @PFA

— Ian Rush MBE (@Ian_Rush9) April 22, 2018
What a well deserved winner of the PFA player of the year award Mo Salah is.Hes been different class all season!now take the crown off ronaldo and messi🤞🤞ynwa

— John Aldridge (@Realaldo474) April 22, 2018
🇪🇬 Mo Salah this season:

🏆 PFA POTY
🏆 African POTY
🏆 Arab POTY
🌍 Qualified for World Cup
🥈 Runner-up in Egyptian Presidential Election
⚽ Premier League Top Scorer

🥇🥇🥇🥇🥇 Liverpool POTM
🥇🥇🥇🥇 PFA POTM
🥇🥇🥇 PL POTM
🥇🥇🥇 UCL POTM

👑 The Egyptian King pic.twitter.com/x7pKKmJyMS

— Premier League Stuff (@EPLStuff) April 22, 2018
You deserve some accolades King @22mosalah @PoojaMedia @trafficbutter @GoalcomNigeria @SoccerNationNg @CompleteSports @Gidi_Traffic @sportingshina @petphil001 @Jololade pic.twitter.com/SsAtnUPWr5

— Tosin Morakinyo (@rexmorrisson1) April 22, 2018
Ladies and gentlemen, your PFA Player Of The Year, @22mosalah 👏👏👏 pic.twitter.com/t0ORqdsZw4

— UNILAD Football (@UNILADFooty) April 22, 2018
46 games ✅
41 goals ⚽️
13 assists 🅰️

Mo Salah wins the PFA Player of the Year award in his FIRST season at Liverpool

🇪🇬👑🔴 #LFC #PFAawards pic.twitter.com/ed8NhvQAcD

— Squaa Onlife (@SquaaOnlife) April 22, 2018
Simply, the Egyptian King and no doubt the best player in England.
Thank you for making us very proud and telling us that dreams may come true but you must work hard to get it #Salah_the_Legend #PFAAwards #EgyptianKing pic.twitter.com/mQ2Ap12Y6C

— Mohamad Lebdi🎩 (@LbjLebdi) April 22, 2018
🇪🇬👑 Mo Salah This Season:
🏆PFA Player of The Year
🏆African Player of The Year
🏆Arab Player of The Year
🌍Qualified for World Cup
⚽Premier League Top Scorer
x5 Liverpool Player of The Month
x4 PFA Player of The Month
x3 PL Player of The Month
x3 UCL Player of The Month pic.twitter.com/GzhK3yGyDN

— 'KNIGHT♞ (@FaresElsayed) April 22, 2018
Mo Salah - Player of The Year 2017/18.

The Egyptian King.

— Alice ❤️💛 (@Alice_YNWA) April 22, 2018
Congratulations @22mosalah well deserved. Keep it up for the rest of the season. Golden boot next 👍 #PFAPlayerOfTheYear #LFC #YNWA

— Gareth Lewis (@tuggy79) April 22, 2018
Congrats @22mosalah pic.twitter.com/rqwUnxfhlX

— Mathew Vieira (@MathewVieiraArt) April 22, 2018